Cosmetic Dentistry – Springfield, NJ
Complete Confidence
with Every Smile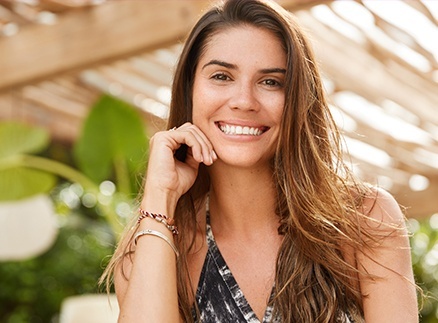 A confident, beautiful smile is a powerful asset in today's world. However, if you feel self-conscious about your teeth because of obvious stains, cracks, chips, or gaps, you may find that even the most benign social interactions quickly become nerve-wracking situations. Fortunately for Springfield, NJ residents, Dr. Henkin can enable patients to achieve their dream look with the help of cosmetic dentistry. Working closely with her, she can help you design your perfect smile and then turn it into a reality right before your eyes with cosmetic dentistry in Springfield, NJ. As soon as you see the final results, you'll wish you came to visit us sooner!
Why Choose Skyline Dental for Cosmetic Dentistry?
Porcelain Veneers: Smile Makeovers in Two Appointments
Virtual Smile Design: See Results Before Treatment Even Starts
Botox: Get Rid of Facial Wrinkles in Just 10 Minutes
Porcelain Veneers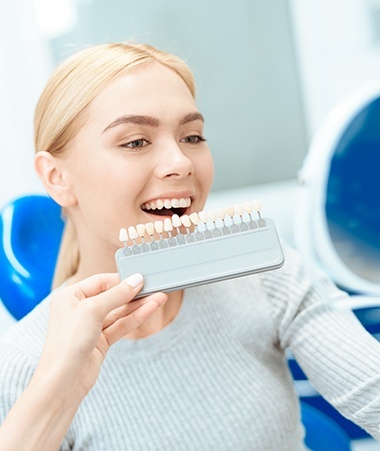 No matter what is negatively affecting your smile's appearance, porcelain veneers can likely make it disappear. This treatment involves placing thin ceramic restorations over the front of the teeth that act as masks, hiding any flaw behind pristine white "enamel." They are custom-made right in our own lab to ensure the perfect look and fit, and you can get just one or an entire set in as little as two appointments.
In-Practice Teeth Whitening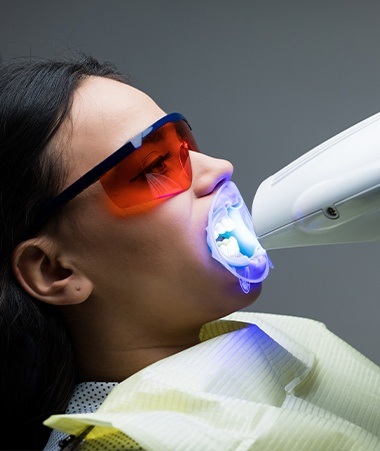 Has your smile lost its luster over the years? Has your daily cup of coffee led to noticeable discoloration? Using the combined power of a highly-concentrated bleaching gel and UV light, Zoom! Teeth Whitening is able to break up even the most stubborn stains to make the teeth six to eight shades brighter in as little as an hour. It's the perfect treatment if you have a wedding, reunion, job interview, or date just around the corner!
Virtual Smile Design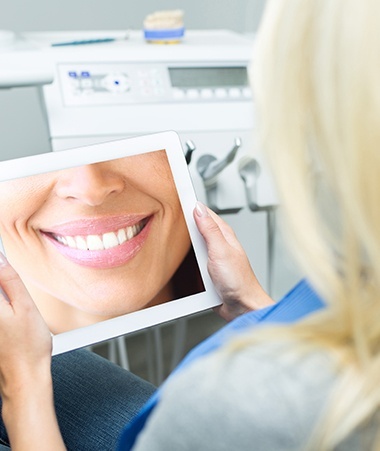 "What if I don't like it?" This is the question on many people's minds before undergoing a cosmetic dentistry treatment, and we don't blame them! Getting anything that could alter the appearance of your teeth is a big decision. Thankfully, we know just how to put those worries to rest. With Virtual Smile Design, we can digitally edit a photo of a patient's current smile to show them how any procedure they are interested in will affect it. This allows for any adjustments to be made before our team ever touches the teeth. That way, a patient can know they'll love their new look even before they sit in the chair.
Botox /Juvederm /Dermal Fillers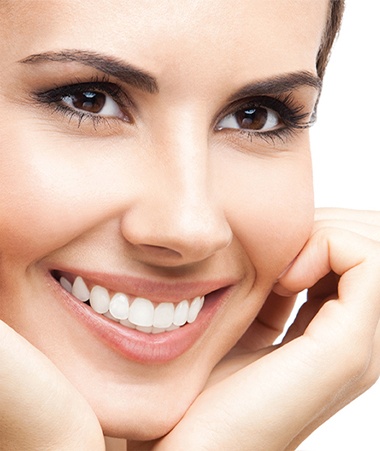 Whenever you smile, do noticeable wrinkles appear on your face? At Skyline Dental, we're ready to help you take care of those, too! Dr. Henkin and our team have completed special training that enables us to provide trusted treatments like Botox and Juvederm, both of which are proven to dramatically lessen the appearance of fine lines and wrinkles on the face to create a smoother, more youthful appearance. In just one appointment, we can enhance your smile, take years off of your face, and ensure you walk out of our dental office feeling absolutely stunning.
Smile Makeovers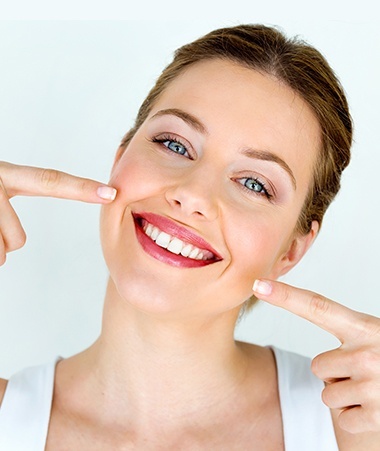 Ready to just hit the "reset button" for your smile? With a personalized smile makeover plan, Dr. Henkin can help you get rid of multiple flaws and improve the size, shape, spacing, and color of your teeth to create a gorgeous look that always fills you with confidence. Every smile makeover is completely customized based on the wants of a patient, so no matter what you want your final result to look like, Dr. Henkin will know how to make it happen.
Understanding the Cost of Cosmetic Dentistry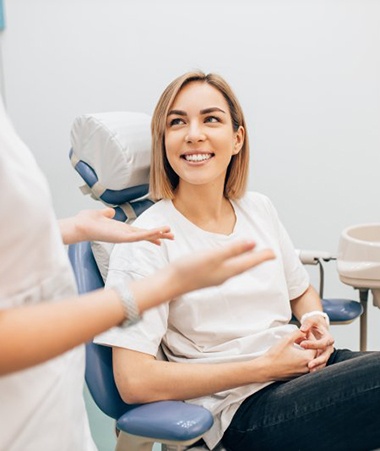 Even patients who are ecstatic about transforming their smiles might be at least a little worried about the cost of cosmetic dentistry in Springfield, NJ. After all, dental insurance seldom covers purely elective procedures. However, that doesn't necessarily mean the treatments you desire are out of reach. Here at Skyline Dental, our team will take the time to help you figure out the ideal treatments that will meet your goals. Then, we can explore your options for making cosmetic dentistry affordable, such as CareCredit financing and our in-house membership plan.
Learn More
Which Cosmetic Dental Service Is Right for Me?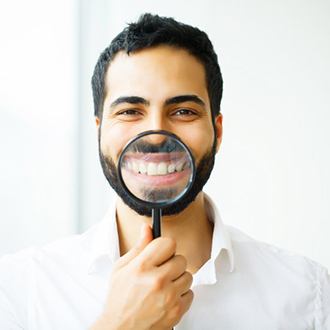 When people pursue cosmetic dentistry, they're typically trying to improve one (or more) of three aspects of their teeth: color, alignment, and shape/size. Depending on which of these changes you'd like to make, your cosmetic dentist in Springfield can recommend the specific treatments that are right for you. Some of our most popular options include:
Clear aligners – For patients with crooked or gapped teeth, clear aligners like Invisalign can make a huge difference in terms of both appearance and health. With that being said, clear aligners are on the higher end of the cost spectrum, and it may take a year or longer to reach your end results.
Teeth whitening – One of the most affordable cosmetic options, our in-office Zoom! Teeth Whitening system can dissolve stubborn tooth stains in as little as a single one-hour visit.
Veneers – Veneers might not be the cheapest way to transform your grin, but they're incredibly versatile and long-lasting. Clear aligners and whitening can each only improve one aspect of your teeth, but veneers can make them appear straighter, whiter, and more aesthetically pleasing overall after just two appointments. Plus, with the right care, veneers may last for 15+ years.
Botox / Juvéderm / dermal fillers – While these treatments technically don't alter your teeth, they reduce wrinkles and other signs of aging that can take years off of your smile. The injections themselves are typically mid-range in terms of cost, but the results will need to be redone every few months.
Cosmetic Dentistry Can Be Well Worth the Investment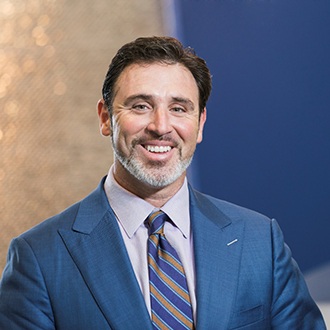 The price tags of various cosmetic dental treatments can seem intimidating at first; you might even reconsider fixing those flaws in your grin. In the long run, however, cosmetic dentistry can be an investment that pays major dividends.
If you've been feeling ashamed of your pearly whites, the confidence you'll feel after cosmetic treatments can be truly priceless. Additionally, you'll be perceived as more attractive, successful, and healthier. You'll likely enjoy improvements in your social, romantic, and professional life; you could even end up getting a promotion! In that way, cosmetic dentistry quite literally pays for itself!
How to Make Cosmetic Dentistry Affordable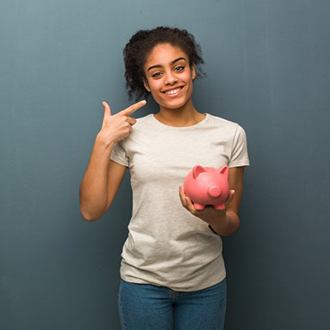 As we touched on earlier, dental treatments that are solely aesthetic are unlikely to be covered by insurance. Still, there are other options to make your smile makeover affordable when you visit Skyline Dental, such as:
CareCredit – Whether or not you have dental insurance, we can help you apply for flexible financing through a third-party company called CareCredit. Qualified patients can pay for their treatment in monthly chunks, and these payment plans typically come with low (or even no) interest.
Membership plan – Our in-house membership plan is a great alternative to traditional insurance. For a flat low fee per year, much of your routine care is fully covered, and you'll receive a 20% discount on ALL of our treatments, including cosmetic ones.
The only way to know for sure how much your cosmetic dental care will cost is to schedule a consultation with Dr. Henkin. We look forward to seeing you and helping you smile!
Cosmetic Dentistry FAQs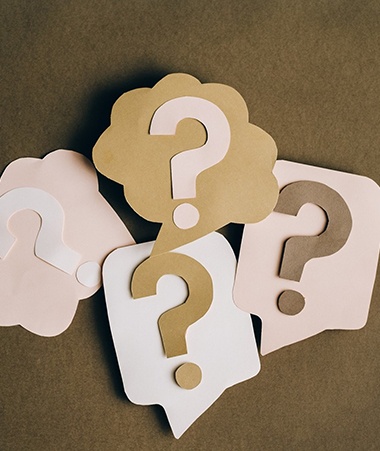 You can have a confident, beautiful smile with the help of your cosmetic dentist in Springfield. Although you'd love to achieve the smile of your dreams, cosmetic dentistry is a big investment. Don't worry, we will explain everything during your consultation. In the meantime, here are the answers to a few frequently asked questions to ease your concerns.
Learn More
Which cosmetic procedure is right for me?
No two mouths or situations are identical. Therefore, there's no way to determine which procedure is right for you without first examining your mouth. Based on your needs and goals, you may be a candidate for:
Veneers: Correct several issues using one minimally invasive procedure.
Metal-Free Restorations: Benefit from natural-looking fillings and crowns.
Dental Bonding: Fix minor aesthetic issues quickly using composite resin.
Smile Makeover: Completely transform your teeth using personalized cosmetic procedures.
Your cosmetic dentist will review all your options to find the perfect solution for your smile.
Is cosmetic dentistry expensive?
Cosmetic dentistry is associated with a hefty price tag, but it's more affordable than you might realize. There are more options than ever to correct several aesthetic concerns, which means there is a treatment to fit your budget. Not to mention, our office provides a variety of payment methods to keep a picture-perfect smile affordable, like using your dental insurance or third-party financing.
How long does cosmetic dentistry last?
Each procedure had a different lifespan. Some results last for a few months, while others can enjoy an improvement for several years. We will explain exactly how long you can expect your new smile to last during your consultation. Various factors will affect the longevity of your results, like your oral health and lifestyle. You can get the most from your investment with a solid home oral hygiene routine and regular care from your dentist. It's best to avoid anything that may damage your smile, like smoking, using your teeth as tools, or chewing on inedible objects.
Can I use my dental insurance for cosmetic dentistry?
It's rare for dental insurance to cover elective procedures, but there are certain exceptions. Many cosmetic services also offer restorative benefits. Therefore, if a treatment is medically necessary, you can use your coverage to offset the cost. After reaching your deductible, your benefits can pay 50% to 80% of the cost of common restorative procedures, like dental bonding or crowns. A member of our team will work on your behalf with your dental insurance to maximize your coverage to lower your out-of-pocket expenses.
Why is dental health important for elective procedures?
Although you may be concerned about aesthetic flaws, your cosmetic dentist's first priority is your dental health. Your teeth and gums must be healthy before undergoing any elective treatments because they can aggravate untreated issues. In some cases, your dentist can resolve them and improve the appearance of your smile simultaneously. While there may be a couple of extra steps in your plan, healthy teeth and gums are vital to the long-term success of your new smile.