Dental Implants – Springfield, NJ
The Gold Standard of
Tooth Replacement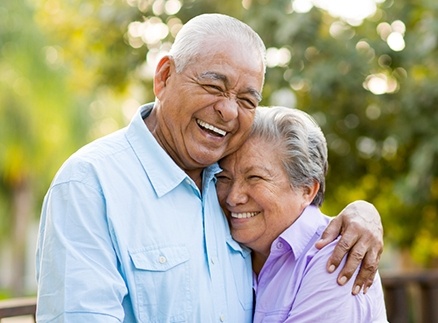 For patients wanting to replace their missing teeth, Dr. Henkin is able to provide a selection of solutions, but she always makes the same first recommendation: dental implants. Why? Because they simply offer more than other traditional restorations. When it comes to their appearance, strength, and longevity, they are simply in a class of their own, enabling patients to recover their teeth and their confident smiles unlike any other treatment. If you're tired of dealing with an incomplete smile and want to learn how dental implants in Springfield, NJ could help you, give us a call today.
Why Choose Skyline Dental for Dental Implants?
Entire Procedure Completed Under One Roof
On-Site Dental Lab Creates Custom Restorations
Entire Team Treats Patients Like Family
The 4-Step Dental Implant Process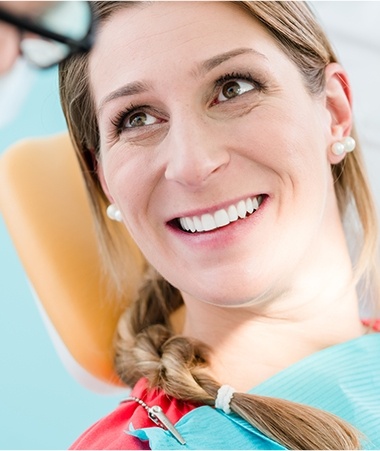 Most dental offices require their implant patients to visit an outside specialist to have their new tooth roots surgically placed. This not only slows down the restoration process but adds quite a bit of expense as well! At Skyline Dental, however, Dr. Henkin can complete the entire procedure herself from beginning to end. From the initial consultation, until the patient walks out with a renewed smile, they'll be able to work with the same dentist and team that they trust, saving time and money every step of the way.
Learn More About the Cost of Dental Implants
Initial Dental Implant Consultation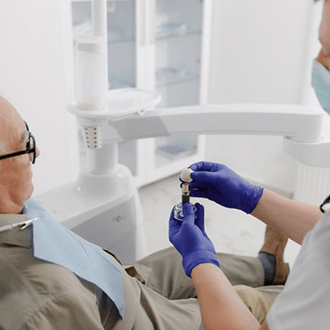 The very first step is to always undergo an initial consultation where our team will review your situation and determine the best way to rebuild your missing teeth. This should involve checking your medical/dental history and if there are any underlying or developing problems in your mouth. If so, we can perform preliminary procedures to get you ready for dental implants, such as gum disease therapy and bone grafting. Once you've finished any of these treatments, we can begin planning out your implant process.
Dental Implant Surgery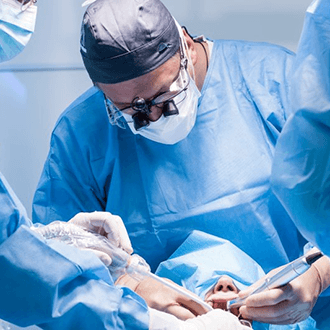 Getting your dental implants embedded into your jawbone will involve minor oral surgery. Dr. Henkin will first completely numb your mouth with a local anesthetic to keep you entirely pain-free throughout your procedure. She'll make a small incision in your gums so that we can reach the area in your jawbone where your implant will be placed. Once we've placed the metal post, she'll suture your gums closed around it so that it can heal. We'll be sure to also fit a dental cap above the implant to protect it and maintain the shape of your gums while you recover.
Dental Implant Osseointegration & Abutment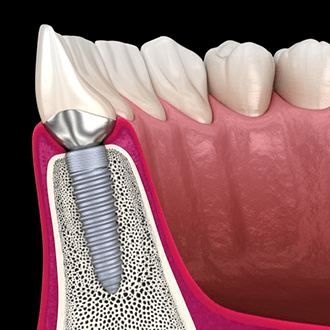 For the next several months after your surgery, your titanium post will undergo what's called osseointegration. This is the process where the implant will bond with the jawbone tissue to create the stable foundation needed to keep your restorations in place indefinitely. You can expect this step to take around three to six months depending on the patient and your situation. After you've healed, you'll come back to us to receive your abutment—the small metal connector that will link your new tooth to your implant. You'll be sent home afterward to recover from that.
Delivery of Dental Implant Restoration(s)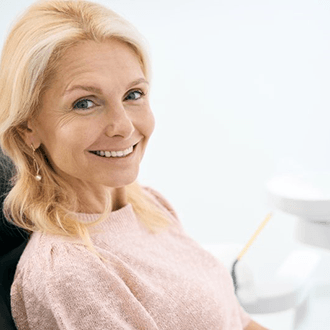 Once your gums are healed from the previous appointment, you'll return to us to receive your new crown, bridge, or denture. We'll double-check that it fits properly, improves your bite, and that you're satisfied with the results before sending you on your way. We'll also answer any questions you might have and provide you with instructions on how to make the most of your newly rebuilt smile for many years to come!
Benefits of Dental Implants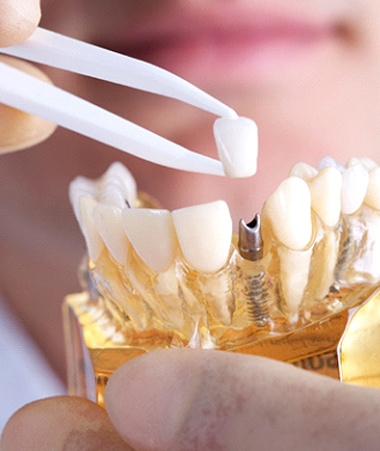 So what makes dental implants so special? In addition to replacing the upper portion of a tooth, a small metal post is placed into the jawbone to recreate the root structure, which provides a strong foundation for a new crown, bridge, or denture. This approach brings with it a host of unique benefits:
Learn More About the Benefits of Dental Implants
Day-to-Day Benefits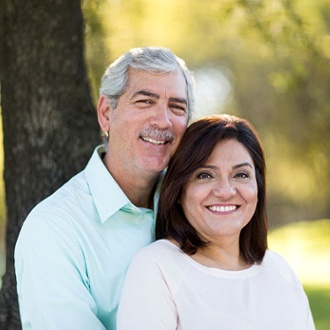 Because implants are held within the jawbone just like real teeth, patients are able to eat whatever they like and don't have to worry about their prosthetic moving around in their mouth. This also makes it easier to expand your diet and make sure it contains a variety of fruits, vegetables, dairy products, and proteins.
The restorations attached to our implants are custom-made by Henkin in our on-site dental lab, meaning she can perfect every tiny detail to ensure the perfect look that blends with the rest of the teeth. Whether you need a single crown, bridge, or denture, you can expect it to look natural and beautiful once attached to your implants.
Speaking is never a problem with dental implants because they don't shift out of place while in use. This can help you avoid embarrassing situations or conversations when spending time with friends, family, or co-workers.
Health Benefits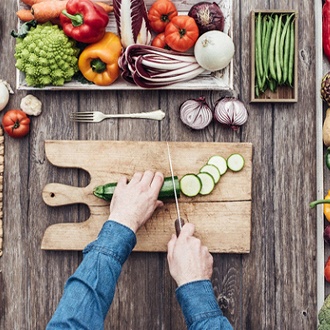 Practicing oral hygiene with dental implants is almost identical to how it was before you had them placed! This means you can reduce your risk of cavities and gum disease more easily going forward. Simply brush and floss as normal and keep up with your routine dental checkups at Skyline Dental!
The jawbone naturally starts to shrink after tooth loss, but dental implants actually renew blood flow to the area and encourage the growth of new healthy tissue, ensuring the implants (as well as the remaining teeth) always have a strong base. This also works to reduce the risk of future tooth loss, a common problem for those missing even just one tooth!
Dental implants do not require the modification of existing teeth just so they can be placed. That means you can maintain more of your natural enamel and still get your teeth replaced without worry.
Long-Term Benefits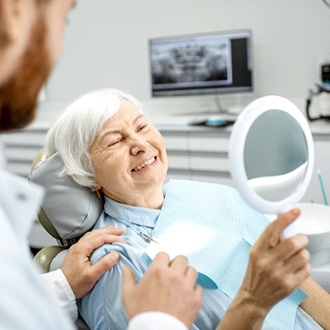 With standard oral hygiene and routine dental checkups, a dental implant can easily last for three decades or more. In fact, many patients enjoy their dental implants for the rest of their life! This can't be said for traditional solutions like bridges and dentures, which usually need to be replaced every 10 and 5-7 years respectively.
By filling the gap in your smile with dental implants, you effectively prevent dental drift. This is where remaining teeth begin to shift out of place as a way to compensate for the missing space.
Dentists note that dental implants are actually one of the most cost-effective solutions for tooth loss because you don't have to worry about replacing them every several years. While they can be expensive now, they remain a worthwhile investment to nearly everyone that receives them!
Indications for Dental Implants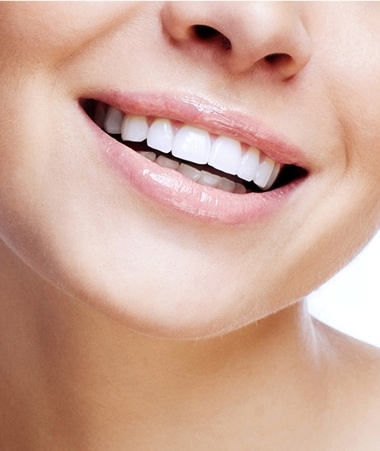 Patients with any degree of tooth loss can benefit from dental implants. After being examined by Dr. Henkin, she can recommend which of the following restorations would be the best fit for someone:
Missing One Tooth
A dental implant root and crown can be positioned between two healthy teeth without disturbing them at all. This is very different compared to a traditional bridge in which the nearby teeth have to be shaved down to hold the prosthetic.
Missing Multiple Teeth
A small number of implant roots can also be used to secure a dental bridge or partial denture. Compared to their removable counterparts, these implant prosthetics not only have a stronger hold, but have been shown to last much longer as well.
Missing All of Your Teeth
Tired of your denture constantly shifting around in your mouth? Just four to six implants can give you a set of teeth you'll never have to worry about again. That's all it takes to anchor a full denture to the jawbone that a patient can trust to always stay in place. Implant dentures are more comfortable than regular ones and also enable a patient to have a stronger bite, meaning they can enjoy a wider variety of foods with ease.
Learn More About Implant Dentures
Understanding the Cost of Dental Implants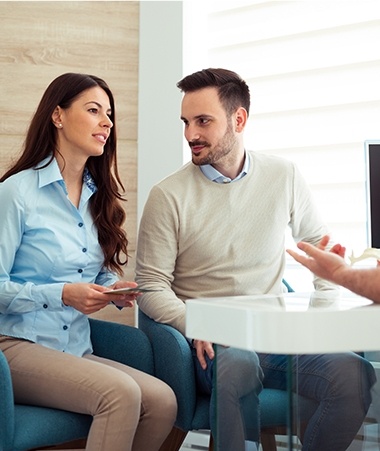 In order for dental implants to be effective, how they are used has to be completely personalized based on a patient's unique needs. Because of this, the cost of the procedure can vary quite a bit. For example, a person receiving just one implant will likely pay much less than someone who needs multiple implants to hold a full denture in place. When you come to see us, we'll outline what your particular treatment process will be like, and this will include all pricing information so you'll know exactly what to expect.
Dental implants do tend to have a higher upfront cost compared to traditional bridges and dentures, but implant patients usually end up saving money in the end. How so? Regular bridges and dentures typically have to be completely replaced every five to seven years, while implants can easily last for multiple decades. Because of this, implant patients spend much, much less on routine maintenance over time, which can easily add up to thousands of dollars as the years go by.
Learn More About the Cost of Dental Implants
Preliminary Treatments & Dental Implant Surgery
Some patients may require certain preparatory procedures before they're eligible for dental implants in Springfield. For example, patients with gum disease may need periodontal therapy to give their implants a healthy foundation. Although these treatments increase your chances of long-term dental implant success, they can make the overall cost of your treatment higher.
It's worth mentioning that because Dr. Henkin can place dental implants herself, you'll be saved from the expense of having to visit an outside specialist in order to undergo the surgery.
The Parts of Your Dental Implant
A dental implant has three parts, each of which incurs its own cost: the implant post, the abutment, and the restoration. There are different makes and models of implants and abutments that are suitable for different patients, so it's essentially impossible for us to give you a cost estimate without your coming in for a consultation.
Final Dental Implant Restoration
The type of restoration, which will vary based on how many teeth you need to replace, also impacts your overall dental implant cost. Generally, the more teeth you're missing, the more you'll have to pay. For instance, a single crown that restores just one implant will cost less than a full denture supported by four to eight implants.
Does My Dental Insurance Cover Dental Implants?
While dental implants are typically not covered by dental insurance, there might be exceptions. Our team has years of experience making the most of patients' insurance benefits, and we'll be happy to review the specifics of your plan. Although we welcome out-of-network plans, we offer in-network savings with the following insurance providers:
Making Dental Implants Affordable
Even if you don't have insurance, we have ways of making dental implants fit within your budget. Our office has partnered with CareCredit, a third-party flexible financing company that has helped countless Americans afford their dental and medical care. We can help you apply for one of their low-to-no interest payment plans.
Alternatively, you can sign up for our in-house Membership Plan. For a low annual fee, this plan fully covers your preventive care and gives you a 20% discount on ALL other procedures, including dental implants.
Dental Implant Post-Op Instructions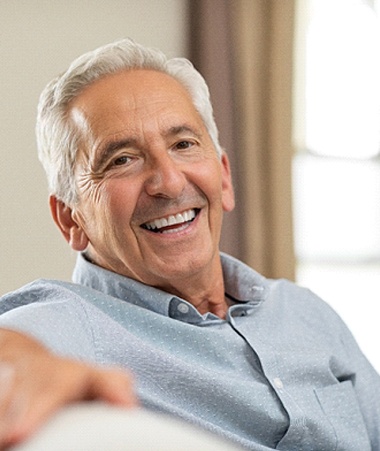 At Skyline Dental, we can complete the entire dental implant process from start to finish in one familiar, convenient location. That means you don't have to worry about visiting multiple providers throughout your journey! Following your surgery, we'll provide you with aftercare information to help you make a speedy and smooth sailing recovery. Below, we've included some post-op instructions so you know what to expect throughout the healing period. If you're ever experiencing anything out of the ordinary, don't hesitate to contact us for assistance!
Learn More About Dental Implant Post-Op Instructions
What to Do Directly After Dental Implant Surgery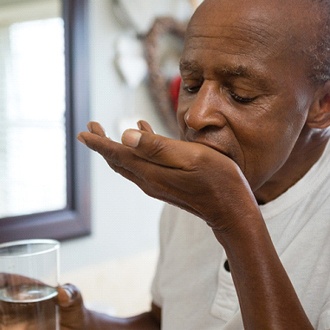 After dental implant surgery, it's incredibly important that you take proper care and maintenance of your new smile to ensure a successful recovery. Your biggest priority during this period is to leave the forming blood clot on your surgery site untouched. That way, your gums can heal properly around the implant. To that end, make sure you avoid:
Spitting (use tissues or swallow your saliva)
Drinking from a straw
Smoking (at least for the first day)
Touching the surgical site with your fingers or tongue
Common Side-Effects When Recovering from Dental Implant Placement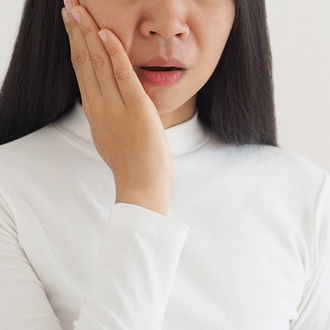 If you've never had oral surgery before, you may be unsure which side effects are normal and which ones you should be concerned about. While you're healing, here are some normal side effects that you can expect in the first few days after your procedure:
Intermittent Bleeding – This is normal and can last for several days. You can remedy it by placing a small amount of pressure on the gauze that's located on the surgical site.
Swelling – You'll experience this in the first 72 hours, and it may last over a week. You can help it go down more quickly by placing a cold compress on the cheek or jaw.
General Discomfort – You can alleviate it by taking prescribed or over-the-counter pain medication as directed.
Your Diet After Dental Implant Surgery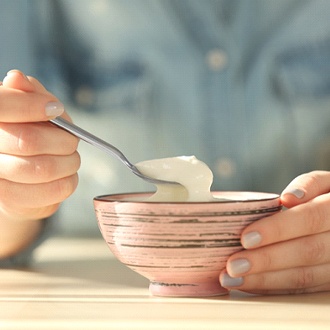 It's strongly recommended that you stick to a soft-food diet for the first few days following your oral surgery. Before your procedure, you should stock up on items like:
Mashed potatoes
Yogurt
Soup (make sure it's not too hot)
Ice cream
Pudding
Scrambled eggs
Pasta
You can return to your normal diet as soon as you feel up for it. However, you should continue to exercise caution with crunchy, tough, chewy foods and avoid chewing directly on the dental implant site.
Post-Op Health & Oral Hygiene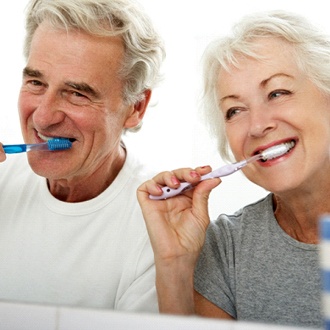 After getting dental implants in Springfield, it's incredibly important that you keep your mouth clean to ensure the titanium posts successfully integrate with the surrounding bone tissue. Even though it's okay to brush your teeth the day after surgery, you'll need to be very careful around the surgical sites. Make sure you rinse your mouth with warm salt water two to three times a day, ideally after eating. Avoid using mouthwashes that contain high levels of alcohol, such as Scope or Listerine.
What to Do After Your New Teeth Are Attached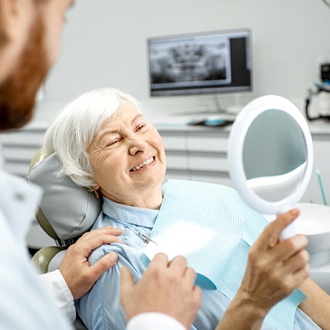 Once you're all healed-up and your dental implants have successfully fused with the jawbone, you're ready for the final step of the process – the attachment of your artificial teeth! After your prosthetic (i.e., crown, bridge, denture) is attached, you may experience minor sensitivity and discomfort. Luckily, that can easily be managed with pain medication. You'll be ready to make the most of your beautiful new smile!
Dental Implant FAQs
Dental implants in Springfield are truly the gold standard of tooth replacement. During your initial consultation with Dr. Henkin, she'll go over all the fine details of your treatment, including your personalized timeline and estimate, and take the time to answer all your questions as well. In the meantime, we invite you to look over a few frequently asked questions about dental implants we've gathered below!
Will I Need to See a Specialist to Have My Dental Implants Placed?
At Skyline Dental, there's no need for portions of your dental implant process to take place at a separate office with an unfamiliar dental professional. Dr. Henkin has completed countless hours of continuing education on dental implants and is proud to be a Fellow of the International Dental Implant Association. This advanced training allows her to personally perform every step of your dental implant treatment, from initial consultation to final restoration!
Do I Brush My Dental Implant Like a Natural Tooth?
Not only will your new dental implant look and function just like a natural tooth, but it can be cared for just as easily as well! Your dental implant won't require you to change your daily dental routine or use any special cleaning products. Simply brushing and flossing it alongside your natural teeth is enough to keep it beautiful and firmly in place for decades to come.
Can I Get a Dental Implant If I Have Gum Disease?
Before we begin the dental implant process, Dr. Henkin will carefully inspect your mouth for any signs of oral health issues that could potentially threaten the success of your dental implant, such as gum disease. This bacterial infection in the gum tissue can cause complications and infections as your mouth heals after getting dental implants. What's more, gum disease can damage the supportive gum and bone tissue that holds your dental implant in place, which could cause it to fail. Thankfully, Dr. Henkin offers several gum disease treatments that can quickly get your oral health back on track and ready for your new smile!
How Long Does It Take to Get Dental implants?
Once the dental implant posts have been placed in your jaw, they undergo a process called osseointegration. The biocompatible titanium posts will gradually fuse with the surrounding bone tissue, which is what will eventually give your new tooth it's incredible comfort and stability. However, it will typically take several months for your mouth to finish healing before we can move on to attaching the final restoration. While this is certainly a longer timeframe than replacing missing teeth with dentures or a dental bridge, the life-changing results are well worth the wait!
Does Getting a Dental Implant Hurt?
At first, the idea of having small titanium posts surgically implanted directly into your jawbone can sound daunting. However, we want you to rest assured knowing that restoring your smile with dental implants isn't anywhere near as painful as you may be imagining. At Skyline Dental, your wellbeing is our number one priority. We'll always make sure you are as comfortable and at-ease as possible before starting any treatment. Thanks to Dr. Henkin's advanced training and state-of-the-art technology, you should feel little to no discomfort all throughout your dental implant placement. While it's natural to experience some soreness and swelling once your dental implants are in place, your symptoms should be easily managed with pain relivers, ice packs, and rest.
Are you ready to permanently replace your missing teeth? Call us today to schedule an appointment with your Springfield cosmetic dentist and start your journey towards a new smile!