Porcelain Veneers – Springfield, NJ
Creating New and Improved Smiles by Hiding Flaws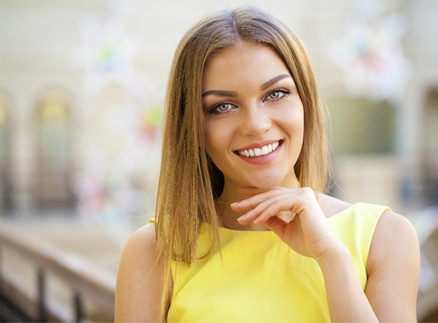 Porcelain veneers sound fancy, right? If you think only those living in the spotlight of Hollywood fame and fortune can achieve a beautiful, perfect smile, you'll be happy to know that's not true at all. Cosmetic dentistry isn't just for the rich and famous. Instead, it's for anyone who wants to improve their smile's aesthetic. Whether it is chips, cracks, stains, discoloration, or even minor gaps, porcelain veneers can have your smile going from dull to dynamite in just two appointments. Find out how you can get started on your new look by calling us to schedule your consultation to discuss porcelain veneers in Springfield, NJ with our cosmetic dentist, Dr. Henkin, at Skyline Dental.
Why Choose Skyline Dental for Porcelain Veneers?
Achieve a fully transformed smile in just two appointments
Customized veneers to meet your expectations
Long-lasting cosmetic solution
What Are Porcelain Veneers?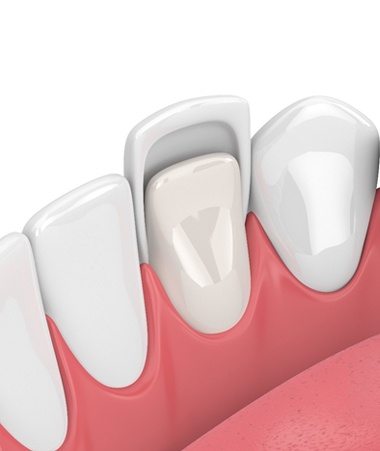 If you've heard of "chiclet teeth" in the past, there's no need to fear. Porcelain veneers have come a long way, and so have the qualifications and training required by dental professionals to place them. Using thin, ceramic restorations, porcelain veneers cover the front of your teeth, acting as a mask.
Custom-made to your liking, these small pieces of ceramic can cover a variety of cosmetic flaws, giving you a beautifully transformed smile.
What is the Process for Getting Porcelain Veneers?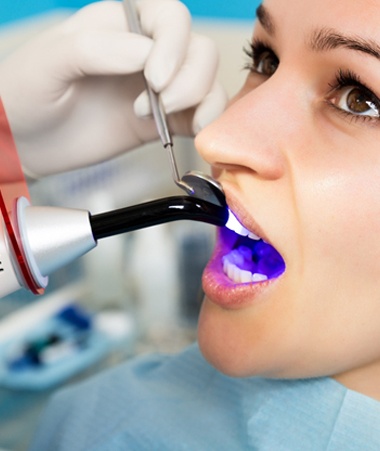 To start, you can expect the process for having porcelain veneers placed to take only two appointments. During your initial appointments, Dr. Henkin will discuss your goals and how you hope porcelain veneers will change your smile. Examining your teeth to determine the flaws that exist, she will begin by removing a small portion of the enamel from the surface of each tooth. This will allow the veneer to lay flat and the bonding agent to adhere the veneer to your tooth correctly. The next step will be to take impressions of your teeth so that the dental lab technicians will be able to customize your veneers to the size, shape, and even desired color.
Once your veneers are ready, you will return to our dental office to have them placed. It is likely you'll receive temporary veneers during your first appointment, so expect Dr. Henkin to carefully remove the temporaries and replace them with the permanent veneers.
By the time you leave, you'll be sporting a smile that will stretch ear to ear.
Benefits of Porcelain Veneers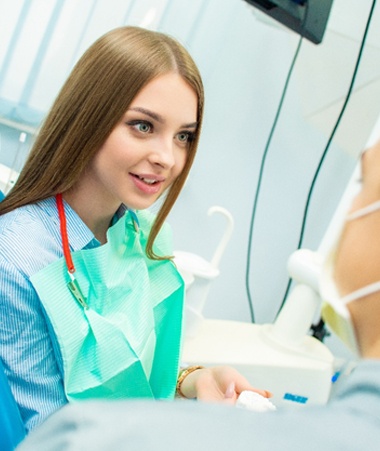 When deciding how you want to transform your smile, Dr. Henkin will discuss your many options. But when it comes down to successfully hiding your cosmetic flaws and achieving a longer-lasting, improved smile, the benefits that come with porcelain veneers cannot be ignored.
Some of the additional benefits of this popular cosmetic solution include:
A smile that looks and feels completely natural
Veneers that are easy to clean and maintain
A longer-lasting solution with patients seeing a fully transformed smile for 10 years or more
Versatility because of their ability to hide multiple types of cosmetic flaws
A less-invasive approach in comparison to restorative treatment methods such as a dental crown
How to Maintain Your Porcelain Veneers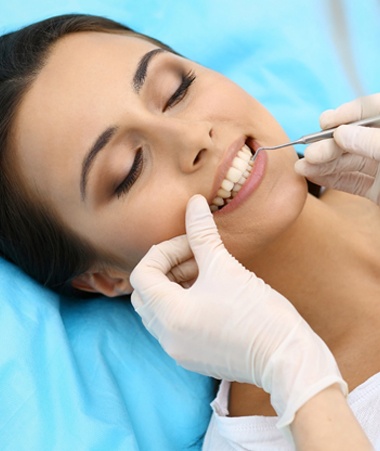 As it is with many other types of cosmetic treatment, your veneers must be maintained properly if you wish to keep them healthy and damage-free for as long as possible. There are no special tools or equipment needed, but some time and care will go a long way to keep them in good shape.
Brush your teeth with a soft-bristled toothbrush for two minutes every morning and each night.
Floss between your teeth at least once a day. Talk to us if you need assistance learning how to floss correctly to prevent damaging your gums.
Use an antiseptic mouthwash to rinse after brushing and flossing.
Avoid eating hard foods that could cause your veneers to chip or break.
Limit the amount of stain-causing foods and beverages you consume. Although veneers are more resistant to stains than regular tooth enamel, they can become discolored over the years.
Maintain your regular appointments with us, so that our team can check your veneers for any problems.
Understanding the Cost of Veneers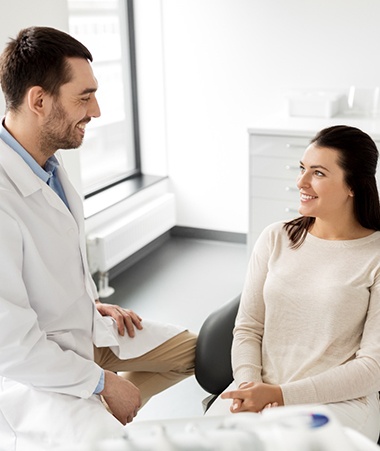 Veneers are an excellent option for more dramatic smile makeovers, but they aren't for everyone. Before you can determine whether or not they are the cosmetic option that you're looking for, it's crucial that you understand their cost. By choosing a skilled dentist and investing in quality veneers, you can achieve a Hollywood smile, but there are other options out there too. Continue reading so you can make an informed decision about your smile with a more thorough understanding of the cost.
Learn More About the Cost of Veneers
Cost VS Cosmetic Dentistry: What's Right for Me?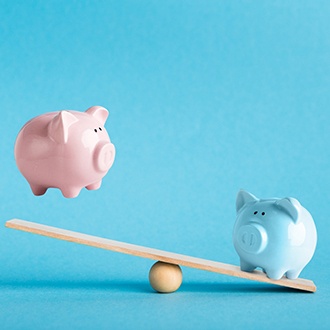 For many, veneers seem like the most ideal option at first, but you should take a look at your other options to see how they would affect your smile. They all have different price points and can help patients achieve a variety of different goals. Here are just a few of the more common cosmetic treatments out there:
Invisalign – If you're dealing with misalignment issues, you may find the Invisalign can best help you achieve a more uniform smile and optimal oral health. This type of treatment costs several thousands of dollars, but it is highly effective for straightening teeth. Invisalign is not able to help when it comes to recoloring or reshaping the teeth.
Teeth Whitening – Professional teeth whitening is a quick solution to surface discoloration, and it's considerably more affordable than many other cosmetic options. However, it doesn't address any cosmetic flaws other than staining. Results can last from a few months to a few years depending on how well you maintain them.
Direct Bonding – Direct bonding is a minimally invasive procedure that can be completed in a single visit and is one of the most affordable cosmetic options out there. If you want to correct some minor flaws, like small chips and stains, this is a simple solution. Bonding can last from 3 to 10 years or even longer.
Veneers – This is by no means the cheapest cosmetic service out there, but it is the easiest way to transform numerous aspects of your teeth, including the shape, color, and minor misalignment issues. The whole process can be completed in as little as two appointments and last up to 15 years or even longer with proper care.
How to Make Veneers Affordable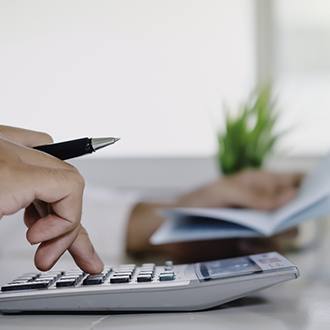 Veneers are not typically covered by dental insurance because they are a cosmetic treatment, but this doesn't mean that you are completely out of luck. We work with CareCredit, a third-party financing company that can make paying for your treatment easier by splitting your cost into manageable monthly installments with little to no interest. We also have our own Membership Plan that gives uninsured patients instant access to discounts on all treatments for just one low flat fee each year. This means 20% all dental procedures after joining!
To learn how much veneers will cost for you, schedule a consultation with us. We're eager to help you achieve the smile of your dreams!
Porcelain Veneers FAQs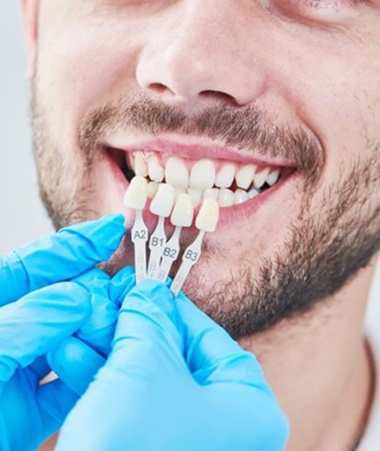 The smile of your dreams is within reach thanks to porcelain veneers in Springfield! Before you begin this process, however, it's perfectly natural to have a few questions or concerns. For your convenience, we've gathered the answers to some frequently asked questions about veneers below. If you don't find the answer that you're looking for somewhere on this page, just give our office a call. Our team is always happy to help!
Does It Hurt to Get Porcelain Veneers?
While getting a sliver of enamel removed might sound a bit scary, the procedure is quick and painless when performed by a skilled professional like Dr. Henkin. Before we begin, we'll administer a local anesthetic to numb that area of your mouth. So, you shouldn't experience any discomfort as we prep your teeth and capture impressions.
You may, however, feel some residual soreness or sensitivity in your gums or jaw for the next few days, particularly if you received veneers on multiple teeth at once. This temporary sensation can be relieved by taking an over-the-counter pain medication as directed on the label.
How Many Porcelain Veneers Do I Need?
It depends on how many of your teeth you wish to "correct." For example, if you have a stubborn stain on just one tooth, you can choose to only get a single veneer. However, we typically recommend getting veneers in pairs (either on your front two, four, six, or eight teeth) for the most natural-looking results. During your consultation, your dentist in Springfield will go over your smile goals and help you figure out how many veneers you need in order to attain the results you truly want.
Are Porcelain Veneers Right for Me?
While veneers can transform practically anyone's smile, some patients may need to undergo preliminary treatments first to ensure their mouth is ready to receive veneers. Before moving forward with the veneers process, we'll closely examine your mouth for health problems that could potentially compromise the success of your veneers. Once we have addressed issues like gum disease, cavities, and teeth grinding, then we can go ahead and schedule your veneers procedure!
Does Dental Insurance Cover Porcelain Veneers?
No two dental insurance policies are exactly alike. A member of our team can look over your insurance paperwork to determine whether you qualify for any coverage. Unfortunately, most dental insurance plans don't cover the cost of elective procedures like porcelain veneers. However, we can help you break up the cost of your treatment into manageable payments through a CareCredit loan. Many of these loans even come with little to no interest!
Additionally, we offer an in-house Membership Plan as an alternative to traditional dental insurance. For a flat annual fee, you'll receive two FREE checkups and cleanings a year as well as a 20% discount on all other services, including veneers. Plus, there are no waiting periods, deductibles, or annual maximums to worry about.