Implant Dentures – Springfield, NJ
Restore Functionality with Permanent Prosthetics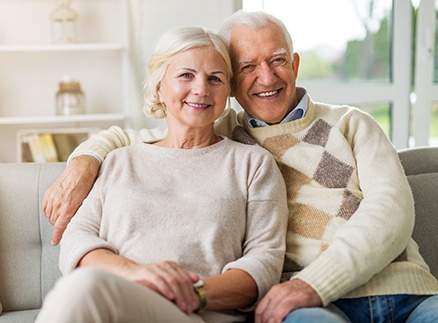 Implant dentures in Springfield are known as the gold standard for tooth replacement. Capable of restoring smiles, improving functionality, and offering better oral health, they offer limitless benefits as opposed to traditional dentures. While helpful in generating the look of a full, complete smile, dentures leave a lot to be desired. This is why Skyline Dental is pleased to make the process of receiving implant dentures as easy as possible. From the start-to-finish treatment provided in-house to the on-site dental lab that will create your custom restoration, you can expect top-of-the-line treatment when seeing our dental team. Contact us today to discuss your eligibility.
Why Choose Skyline Dental for Implant Dentures?
Start-to-Finish In-House Implant Placement and Restoration
Custom Restorations Created at On-Site Dental Lab
Dental Insurance Welcome and Financing Available
What Are Implant Dentures?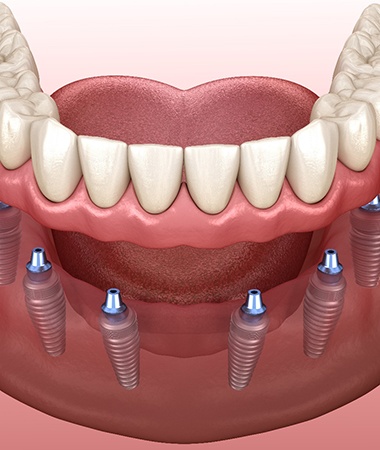 Traditional dentures require the use of your natural suction to remain in place on top of your gums. Although less invasive than implant dentures, they can easily slip or fall out when eating or speaking, and they can cause irritation and discomfort when they no longer fit properly.
Fortunately, dental implants in Springfield make it possible for you to enjoy a more comfortable, natural, and beautiful appearance. Replacing an entire arch of teeth will give you back the bite force, chewing power, and confidence needed to embrace a better quality of life. This is why more than 3 million people in the United States already have them.
In your consultation with Dr. Henkin, you will discuss your goals as well as which type of denture you believe is right for your smile. You have the option to choose from:
Fixed/Permanent Implant Dentures
Considered to be a hybrid prosthetic, a fixed denture cannot be removed by anyone other than your implant dentist in Springfield. It will be secured to 4-8 dental implants and work just like regular teeth, allowing you to effectively maintain good oral health.
Removable Implant Dentures
Known as an overdenture, this type of denture is held into place using only 2-5 implant posts as well as a bar- or ball-retained device, which means you do not need as much jawbone density. It is also easily removable, allowing you to take it out and clean it before going to bed each night.
The Implant Denture Process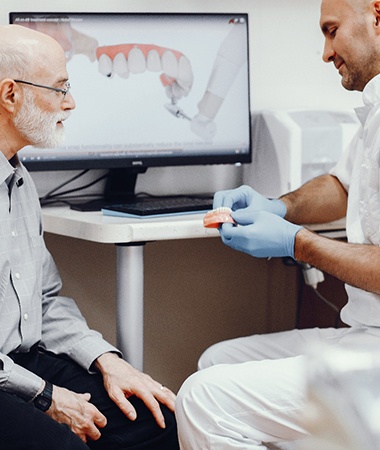 The complete process for receiving dental implants does take time. It does require that you do not rush your recovery, as the implants and bones will need to fuse properly to ensure a solid foundation. When choosing dental implants in Springfield, you can rest assured the time and money spent will be well worth it once you see the final results.
The actual process for receiving dental implants includes meeting with your implant dentist in Springfield to discuss your goals and determine if you need any preliminary treatments (i.e., bone grafting, periodontal therapy). No matter if you're immediately cleared to move forward or need additional services, your dental implant surgery will include receiving local anesthesia before we make multiple incisions in your gums to carefully place each dental implant. When finished, we will close the gum tissue and place a protective cap over the area. You will then be expected to return home to recover for 3-6 months. This will allow osseointegration to occur. After placing your metal abutments, which are the connectors that attach your restoration to your implants, you will finally receive your customized denture, which will be crafted in-house at our on-site dental lab.
Am I a Candidate for Implant Dentures?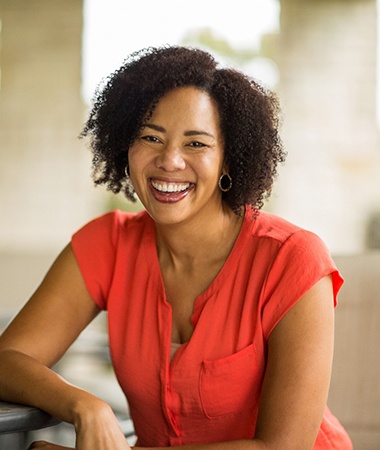 If you suffer from complete tooth loss, there is a good chance you will be eligible to receive implant dentures. Even if others have told you that you will not qualify, it's always best to let our team at Skyline Dental examine your smile in its entirety. Only then can we determine how best to move forward so you can start enjoying life with a complete, permanent smile.
During your initial consultation, we will consider the following factors when making our decision:
If you have any signs of gum disease, as we will need to perform periodontal therapy before you can receive your implant dentures.
If you are healthy enough to undergo minor oral surgery, or if you suffer from an autoimmune disorder or systemic issue that might cause dental implant failure.
If you have enough jawbone to support your implants and restoration. If you do not, you will need bone grafting to strengthen what will become the foundation for your new smile.
Benefits of Combining Dentures & Dental Implants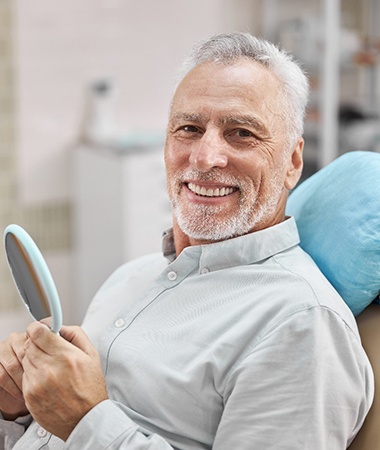 By combining dentures and dental implants, you will find there are many great benefits, some of which include:
The ability to eat without difficulty. You won't have to worry about a denture slipping or falling out of place because your implants are surgically placed into your jawbone. Also, your bite force and chewing power will be much greater.
Greater oral health because your implant dentures act just like regular teeth, allowing you to brush, floss, and rinse with ease, all while reducing your risk for gum disease.
Enjoy stronger jawbone density because your implants will continue to stimulate this area of your facial structure, minimizing your risk for shrinking bone and potential facial collapse.
The opportunity to enjoy a new smile that can last decades or even a lifetime with proper care and maintenance.