Dental Bridge – Springfield, NJ
Bridge the Gap Between Missing Teeth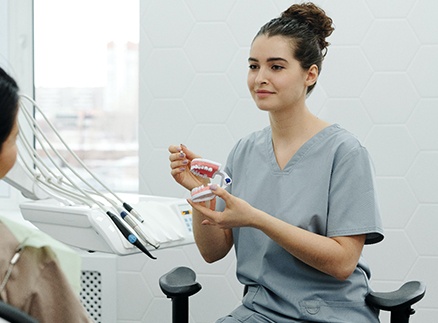 Your teeth are designed to serve you for a lifetime; however, tooth loss is still a prevalent problem for many adults. Whether you've lost one or more teeth from decay, infection, or trauma, you don't need to live with an incomplete smile using a dental bridge in Springfield. Our office embraces the latest technologies and techniques to replace your missing teeth using a prosthetic that looks and feels natural.
Why Choose Skyline Dental for Dental Bridges?
On-site dental lab to get your restoration quickly.
Experienced in implant dentistry.
State-of-the-art technology and materials.
What is a Dental Bridge?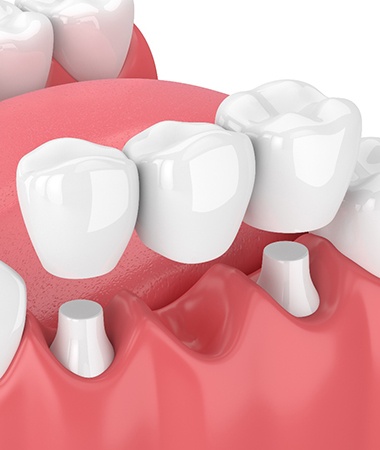 A dental bridge is the most traditional treatment to fill the space of one or more consecutive missing teeth. Your new teeth are customized to match the ones you have lost to blend in with your smile. You'll regain your ability to chew a variety of foods and restore your confidence. By treating your tooth loss quickly, you'll safeguard your smile from additional complications.
Types of Dental Bridges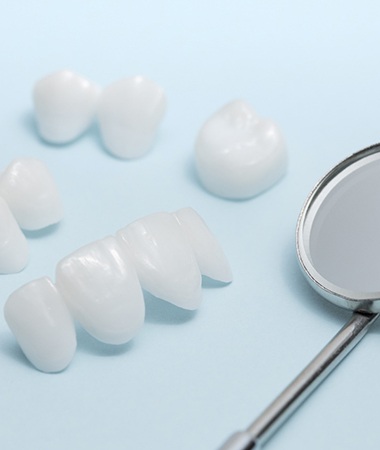 You have more options than ever to replicate your lost teeth. We'll perform a thorough consultation and learn more about your goals to create a personalized treatment plan. Based on the results of your examination, we'll recommend an effective treatment, which can include:
Traditional Dental Bridge
A traditional bridge involves taking an impression of your mouth to recreate the portions of your missing teeth that are visible above the gum line. Your bridge is carefully crafted from all-ceramic material to look like real teeth. It will be held in place by bonding dental crowns to the adjacent teeth. With the right aftercare, your bridge and crowns can last for a decade or longer before needing to be replaced.
Implant Bridge
As an alternative to a traditional bridge, many patients prefer an implant bridge. Instead of using crowns to hold the prosthetic teeth in place, 1-2 dental implants will anchor it to your jawbone. Each implant post will mimic a tooth root, providing exceptional benefits that aren't possible using a regular bridge, like preserving your jawbone. You'll enjoy the closest thing to your natural smile without needing to alter healthy teeth. Dental implants have over a 95% success rate and are proven to last for a lifetime with the proper care, so you'll never need to worry about paying for new ones.
The Benefits of Getting a Dental Bridge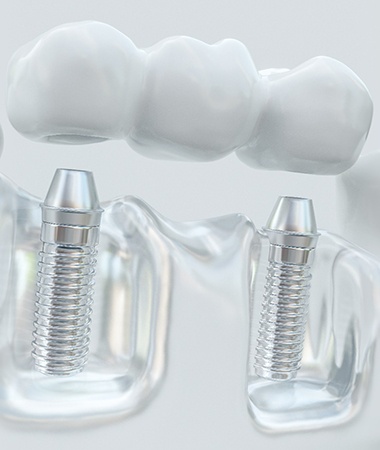 The complications of tooth loss are more than just aesthetic concerns. Missing teeth can also affect your oral health and quality of life. Replacing your lost teeth with a bridge provides several advantages, including:
Improve your confidence.
Preserve your natural teeth.
Maintain a balanced diet.
Lower your overall oral health expenses.
Natural-looking results.
Durable materials that last for years.
Rehabilitate Your Smile Today
You don't need to feel insecure about your missing teeth. Your dentist in Springfield has the innovations you need to achieve the beautiful, complete smile you deserve using the latest advancements in dentistry. Contact our office today to schedule your consultation for a dental bridge.
Dental Bridges FAQs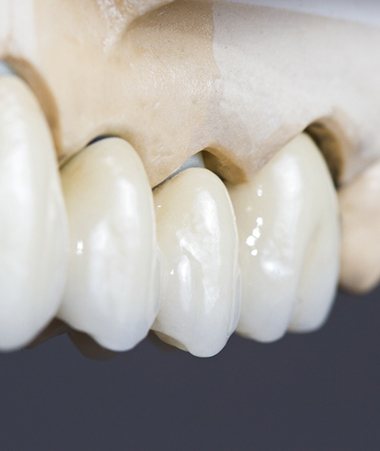 It's completely understandable if you have questions about dental bridges. We acknowledge that you may wish to know more about this treatment before moving forward with it, and we are here to answer your questions! In fact, below we've responded to four commonly asked questions and hope that you'll benefit from reading them. Should you want more information, feel free to ask Dr. Henkin any questions you have while you talk with her in your consultation.
Learn More
How Many Missing Teeth Can a Bridge Replace?
Dr. Henkin approaches each case ready to customize treatment to the patient's personal needs, and bridges provide plenty of flexibility. A traditional dental bridge can be used to take the place of one to three missing teeth in a row, but an implant bridge is capable of replacing three to five consecutive lost teeth. After examining your mouth as it currently is, Dr. Henkin can design a treatment plan specifically for your tooth loss situation.
What Is the Process of Getting a Dental Bridge?
Before starting the bridge process, we likely need to do preparatory work (e.g., taking some enamel off the tooth on both sides of the gap or placing dental implants). Then, we take impressions of your upper and lower arches and send this information to the dental lab. In most cases, we'll attach a temporary restoration while we wait for the lab to create your custom bridge. When the restoration is complete, you return to our office to have your bridge bonded in position.
Does Getting a Dental Bridge Hurt?
At Skyline Dental, your comfort matters to us. If you are getting a traditional bridge, we will need to remove some enamel before collecting impressions and putting the temporary restoration in place. However, we will use a local anesthetic prior to doing anything to your tooth structure so that you remain comfortable throughout the entire process. If you choose to get an implant bridge, you may experience a little discomfort as a result of the placement surgery, but again we will do everything we can to keep pain to an absolute minimum.
Are Dental Bridges Covered by Dental Insurance?
Although there may be some exceptions, most dental insurance plans do include bridges in their benefits. However, it is important to note that insurance usually covers about half of the total cost, which means you'll be responsible for paying the other portion out-of-pocket. For some, it is helpful to apply for dental financing through CareCredit to divide the cost into easier monthly installments. If you have any questions about the financial details of getting your bridge, don't hesitate to ask us at your consultation.