Emergency Dentist – Springfield, NJ
Urgent Dental Care Right When You Need It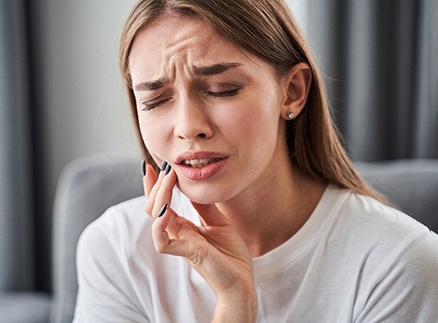 Needless to say, any kind of emergency situation is stressful, but dental emergencies can be particularly harrowing because many people don't know what to do when the unexpected happens. Should they head to their local ER or call a dentist? If you don't mind waiting rooms, then the ER is your best bet, but if you're hoping to get your problem solved quickly, we recommend calling Skyline Dental. Our emergency dentist in Springfield accepts patients on weeknights and Saturdays and can even schedule same-day appointments, so no one ever has to be left waiting in pain.
Why Choose Skyline Dental For Emergency Dental Care?
Weeknight & Saturday Hours
Dental Insurance Welcome
Dentist Skilled in Oral Surgery
How We Treat Dental Emergencies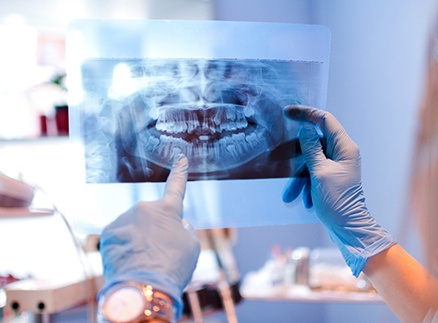 It's important to have a plan of action so you don't have to make all decisions in the moment while you're in pain. Here's what you can expect from our team in an emergency:
Same-day appointment: Once you have contacted our office, we will schedule an appointment for you that day. Keep in mind we are open all weeknights except Wednesday and offer Saturday hours. We'll also give you personalized first-aid tips over the phone.
Emergency exam: When you arrive at the office, we will perform an examination and take X-rays to determine the source and extent of your problem. Relieving any immediate, severe pain will be a priority.
Review findings: Our dentist will go over their findings with you in addition to providing treatment recommendations. They'll work with you to create a custom treatment plan while ensuring you are aware of the estimated price and treatment length before committing.
Get the care you need: Our experienced team knows the priority is to work quickly to resolve your issue and get your oral health back on track, whether that involves a filling, crown, root canal therapy, or another treatment.
The Most Common Dental Emergencies
Dental emergencies tend to fall into one of two unpleasant categories. First, some accidents happen in the blink of an eye that result in broken or knocked-out teeth. Then, there are the problems that take many months to develop and seemingly become severe out of nowhere, like a bad toothache. In either case, you should definitely give us a call for help as soon as you can. Depending on your issue, the time elapsed before you get help could affect your outcome. Below are some of the most common dental emergencies we treat here at Skyline Dental.
Understanding the Cost of Dental Emergencies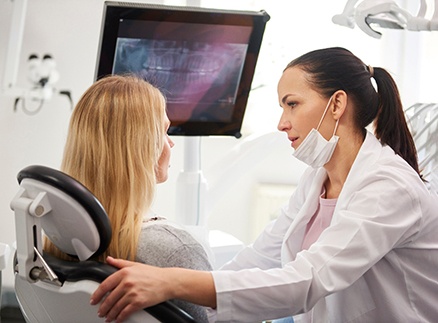 When an unexpected dental problem strikes, you shouldn't waste precious time worrying about being saddled with a large dental bill. At Skyline Dental, we offer several methods for making the cost of a dental emergency in Springfield manageable. After Dr. Henkin evaluates your situation, our team will provide you with a customized cost estimate and review your payment options. That way, you can recover your smile without breaking the bank!
Learn More
Treatments for Dental Emergencies Can Vary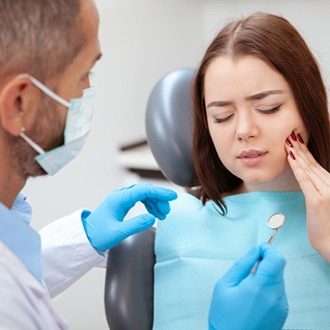 Every dental emergency is unique, so treatment must be adjusted to the needs of the patient. One might just require a small filling, for example, while another may need multiple teeth to be removed and replaced. Because of this, the cost of urgent dental care can be quite different from patient to patient. Furthermore, we can't even give you an estimate until Dr. Henkin has assessed the extent of the damage and determined which treatments would best remedy the situation.
Some of the most common procedures used to treat dental emergencies include:
Dental crowns
Tooth-colored fillings
Root canal therapy
Tooth extractions
Rest assured that we'll thoroughly explain everything you need to know and make sure you're fully comfortable with the financial aspects of your treatment before moving forward.
Does Dental Insurance Cover Dental Emergencies?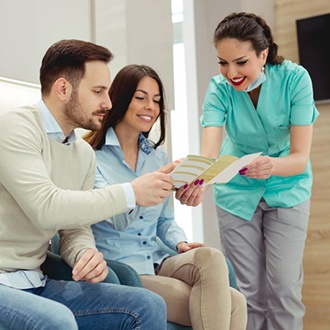 No two dental insurance policies are exactly alike, but many of them provide some coverage for emergency care. For instance, it's not uncommon for insurance to cover one necessary emergency exam per year. Dental crowns, root canals, and other common emergency procedures are often eligible for coverage at 50 to 80 percent.
Our team at Skyline Dental can handle the insurance claims process on your behalf to make your care less stressful while also maximizing your benefits. We're an in-network provider with most of the nation's leading PPO plans, including Delta Dental, Cigna, and Aetna. However, we also file claims for out-of-network patients to reduce their out-of-pocket costs.
Other Payment Options for Emergency Dental Care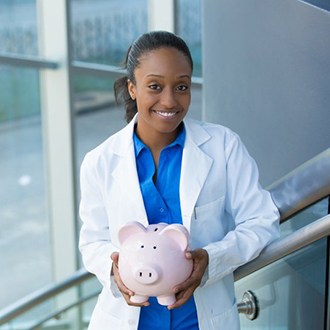 Besides dental insurance, our team accepts numerous payment methods to make visiting your emergency dentist in Springfield affordable. These options include:
IN-HOUSE MEMBERSHIP PLAN – For a flat annual fee, our Membership Plan gives patients instant access to FREE preventive care as well as discounts on all other services. Plus, you don't have to worry about waiting periods, annual maximums, deductibles, or any of the red tape that makes traditional insurance stressful.
CARECREDIT – Countless patients across the country have used CareCredit financing to help them afford their dental and medical care. This company offers low- to no-interest payment plans based on credit approval, making your treatment costs extremely budget-friendly.
Save Money by Maintaining a Healthy Smile
Of course, the simplest way to minimize your emergency care costs is to avoid the emergency in the first place! While that isn't always possible, taking the right precautions can drastically lower your risk. For instance, investing in two checkups and cleanings per year can go a long way toward detecting and treating oral health concerns before they turn into emergencies.
Another way to save money on urgent dental care is to call us and schedule an appointment soon after you notice a problem. You might be tempted to wait until treatment is absolutely necessary but prolonging it could cause the issue to worsen and require an even more expensive procedure later on. Getting the care you need right away can benefit your smile as well as your wallet!
Keys to Preventing Dental Emergencies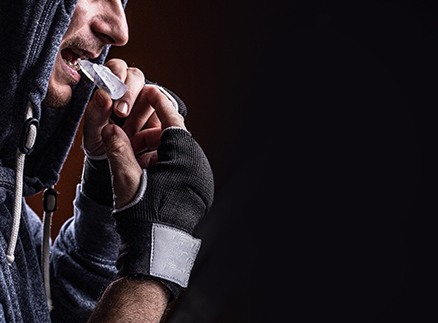 Dental emergencies are unsettling and can happen when you least expect them to. Although not every incident is entirely avoidable, there are several steps you can take to lower your risk of experiencing one. Being well-informed and knowledgeable on how to protect your mouth from harm can help you spare an urgent trip to your emergency dentist in Springfield. That said, we've compiled a list of simple things you can do to prevent dental emergencies.
Learn More
Visit Our Dentist Regularly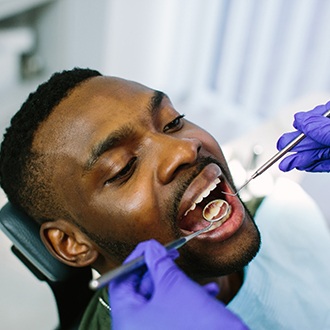 A healthy smile requires more than just brushing and flossing. By visiting our team at Skyline Dental every six months for a checkup and cleaning, we can stop dental emergencies in their early stages before they turn into complications. At every appointment, our dentist in Springfield will carefully examine your mouth for any problems, spotting cavities or chips long before you would've noticed them on your own. We'll treat these issues as soon as we find them, keeping them from worsening and resulting in a painful incident.
Practice Good Oral Hygiene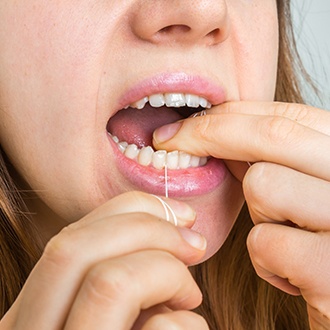 Did you know that most toothaches that require immediate dental care are the result of decay that could've been avoided? Aside from regularly visiting your dentist, you can keep your smile in tip-top shape by following a solid oral hygiene routine. That means brushing your teeth at least twice a day and flossing between your teeth at least once a day. These practices are critical for minimizing plaque buildup and preventing oral health problems that could cost you a trip to our emergency dentist in Springfield.
Follow a Nutritious Diet
Most people aren't aware of the impact diet can have on oral health. Eating healthy foods can significantly minimize your risk of extensive decay, gum disease, and other infections. Sugary, starchy, and acidic foods are damaging because they promote the accumulation of harmful bacteria. To keep your mouth problem-free, make sure you stick to a well-balanced diet full of nutritious foods like whole grains, dairy products, fresh fruits, vegetables, and lean proteins.
Wear a Mouthguard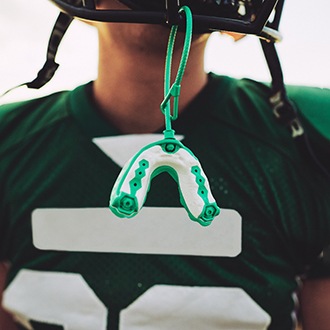 Do you play sports or regularly grind your teeth while you sleep? You may want to consider getting some form of protection for your pearly whites, such as a mouthguard. By wearing one, you can protect yourself against oral injuries. One blow to the face or teeth grinding can cause your enamel to wear down, leaving your teeth susceptible to problems like decay, cavities, and even gum disease.
Do Not Use Your Teeth as Tools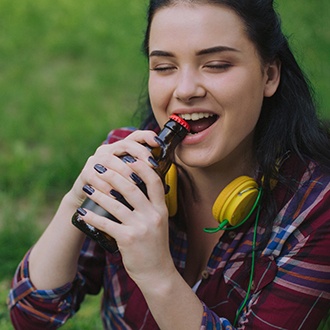 Sometimes, when you can't open a bottle or rip open a package, you may be tempted to use your teeth if you don't have any tools on hand. Well, using your pearly whites for anything other than chewing food can easily result in a dental emergency. To keep your smile safe, take some time to grab the right tool or find help for the task at hand.
Dental Emergency FAQs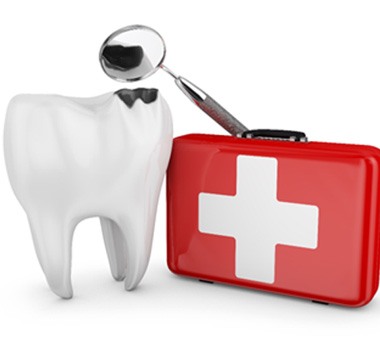 Reading through the above information can give you valuable insight into everything from the common types of dental injuries to emergency response tips. However, to be as prepared as possible, you may still have some questions on your mind. Well, we want to help! Keep reading for answers to some of the most frequently asked questions we get from patients regarding a dental emergency in Springfield.
Learn More
Will My Toothache Go Away on Its Own?
Despite popular belief, toothaches do not heal on their own. In fact, a once-painful toothache that has "disappeared" may actually be an indicator the infection has damaged the nerve of the tooth! Therefore, it's always a good idea to schedule an appointment with your dentist right away. From there, they can determine the root of the problem and put a plan in place to restore the look and function of your smile.
Should I Visit the Emergency Room First for Dental Emergencies?
If your dental emergency has resulted in a potentially life-threatening condition, like difficulty breathing or a broken jaw, then you should head to your local emergency room first. However, ERs typically don't have dentists on staff, meaning they won't be able to address dental emergencies effectively. Therefore, with all other smile-related injuries (lost filling, knocked-out tooth, etc.), your first call should be to your emergency dentist in Springfield.
My Chipped Tooth Doesn't Hurt. Do I Still Need a Dental Visit?
Even if your chipped tooth doesn't hurt, it's a good idea to schedule an appointment with your dentist. Although you may not be in any pain, the inner layers of your tooth could be vulnerable to damage. Plus, your chipped tooth may break further without professional attention, resulting in sensitivity, soreness, and overall discomfort. With that being said, you can most likely afford to wait a day or two until your appointment if needed. Just make sure you don't put off seeing your dentist for too long.
What Should I Keep in My Emergency Dental Kit?
From a lost filling to a knocked-out tooth, dental injuries can be anxiety-inducing. To make the entire experience as stress-free as possible, preparation is paramount. You should keep an emergency dental kit accessible with these essentials:
A storage container large enough to fit a tooth or restorations
Sterile gloves
Gauze pads
Cotton balls
Dental cement (or other temporary filling material)
Denture adhesive
Petroleum jelly
Anit-inflammatories such as ibuprofen
Orajel
Floss
An ice pack or cold compress
Contact information for your emergency dentist in Springfield