Invisalign® Clear Braces – Springfield, NJ
Discreetly Align Your Smile in Record Time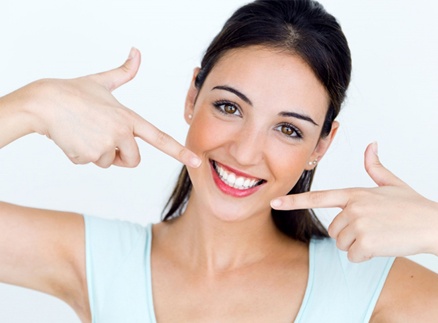 When someone pulls out their phone or camera to snap a picture, do you automatically smile with your mouth closed to hide your crooked teeth? Even if you're past the age where it's socially acceptable to wear braces, it's never too late to straighten your pearly whites. Thanks to Invisalign clear braces in Springfield, NJ you can achieve a straight smile without wearing a mouthful of metal. At Skyline Dental, Dr. Henkin can prescribe these custom-made clear trays that are designed to discreetly align your smile in record time. If you're looking for an easy way to boost your confidence in your grin, contact us today to learn whether Invisalign is right for you!
Why Choose Skyline Dental for Invisalign Clear Braces?
Discreet Appearance That Onlookers Won't Notice
Treatment Custom-Made for Each Patient
Often Able to Work Faster Than Traditional Braces
How Invisalign Works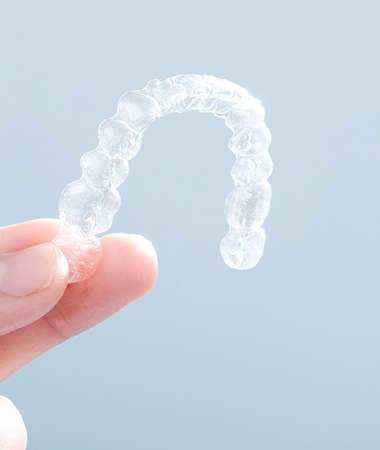 Your Invisalign journey begins with a consultation, during which Dr. Henkin can take digital impressions of your mouth. These models are used to create a series of clear plastic aligners, each one designed to shift a small portion of your smile until every one of your teeth is perfect aligned. For maximum effectiveness, you should wear each set for at least 22 hours a day, only removing them to eat, drink, and clean your teeth.
You'll still be expected to visit us every few weeks throughout the course of your treatment, but these appointments shouldn't last long. In most cases, we'll simply check your progress and give you your next few sets of aligners.
Benefits of Invisalign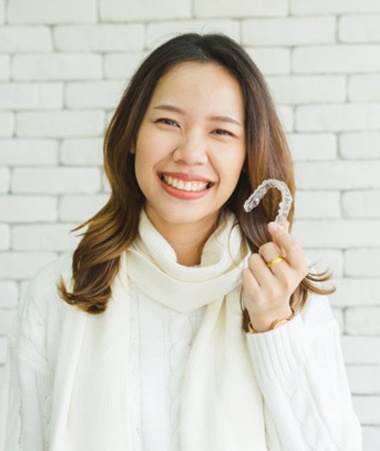 Besides being translucent enough to avoid being noticeable, Invisalign comes with several additional benefits, including:
While traditional braces normally take 24-36 months to align your teeth, Invisalign treatment lasts 12-18 months on average.
The clear aligners are designed with your comfort in mind. As such, they won't irritate your gums or cheeks as much as braces do.
Since you remove the aligners to eat, they won't restrict your diet.
Because the aligners don't need to be tightened like braces do, you'll spend less time in the dental chair.
Am I a Good Candidate for Invisalign?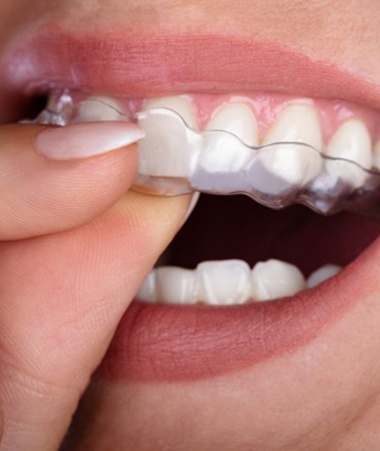 Despite being able to correct multiple orthodontic flaws (like overbite, underbite, and crowded teeth), it's worth mentioning that Invisalign requires more responsibility than traditional braces. Because the aligners are removable, you must be disciplined enough to wear them as prescribed. As a result, Invisalign is typically only recommended for adults and older teenagers.
You must also have adequate oral health before beginning treatment. If we detect issues like gum disease or tooth decay, they'll have to be addressed prior to wearing the aligners.
Understanding the Cost of Invisalign
Believe it or not, there is actually no definitive cost of Invisalign. Each patient has different orthodontic needs that influence the amount they end up paying. Some of the factors that will affect your cost are:
Whether you'll require any preliminary procedures, such as tooth extractions, fillings, or gum disease therapy before starting treatment
The degree to which your teeth are misaligned
Your age
How often you wear your aligners
Ultimately, the only way to accurately know the price of your Invisalign treatment is to schedule a consultation with your cosmetic dentist in Springfield.
Invisalign FAQs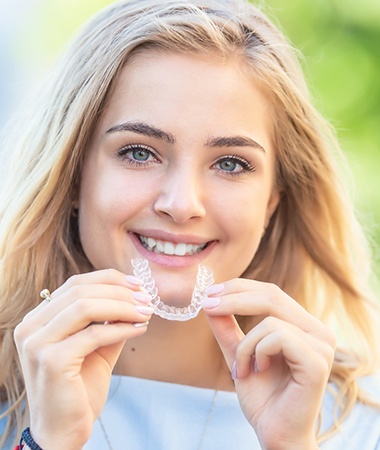 Invisalign has been around for decades, but we completely understand if you have questions about treatment and whether or not it's right for you. The team at Skyline Dental is happy to speak with you one-on-one and answer any questions you have ahead of treatment. Below, we've covered a handful of questions we've heard the most, but don't let that stop you from bringing up any concerns that you may have.
Learn More About the Benefits of Dental Implants
How Long Does Invisalign Take?
While the average treatment time for Invisalign falls between 12 and 18 months, it's important to keep certain factors in mind when thinking about your own treatment. The length of your care will vary significantly on the severity of your misalignment as well as your commitment to completing your Invisalign treatment plan. In cases where your misalignment is mild, you can expect your treatment to take about 6 months (in most cases). While wearing aligners for 18 months may sound difficult, you'll want to remember this is still a fraction of the amount of time needed to complete orthodontic treatment using metal braces. By staying on top of routine dental visits to our office and following all our instructions, you can complete your treatment as efficiently as possible.
What if My Invisalign Broke?
Invisalign's clear aligners are made from durable plastic. However, there is always the possibility that they crack, scratch, break, or become damaged in some way. If a hairline crack occurs, your aligner can still be used. However, you'll need to use extra caution when removing it and putting it back into your mouth. When placing your aligner, use even pressure to minimize the risk of bending. Do not try to repair the aligner on your own. Instead, contact our office directly. We'll provide a recommendation from there based on your situation. We may tell you to go back to a previous pair of aligners in your series until we can get your replacement. You may be able to switch to the next pair if you're within three days of finishing your current set.
Is Invisalign Cheaper than Braces?
No two smiles are alike. That means the cost of your orthodontic treatment, whether you choose Invisalign or metal braces, will depend on many factors. The biggest factor by far will be the severity of your misalignment and other orthodontic concerns. Invisalign will typically cost as much as traditional braces, but they are both typically close to $5,000 in total cost. However, factors like your current oral health, commitment to your treatment plan, and your smile's misalignment can impact the final price you pay. While Invisalign can be more expensive than braces in certain cases (due to lack of insurance coverage), you'll need to weigh those aspects with how much you want to enjoy the benefits Invisalign provides. If you have dental insurance, we'll gladly look over your plan and confirm if any coverage is available.
How Do I Clean My Invisalign?
Invisalign sells their own cleaning system complete with proprietary cleaning crystals to keep your aligners as clear and bacteria-free as possible. Using them is simple and easy as you complete your daily brushing and flossing. With that said, you may also use a soft-bristled toothbrush to gently clean your aligners as this will prevent food debris from sticking to them. We do not advise using hot water to clean them as this can warp the plastic.