Partials & Dentures – Springfield, NJ
Fill in the Gaps for Good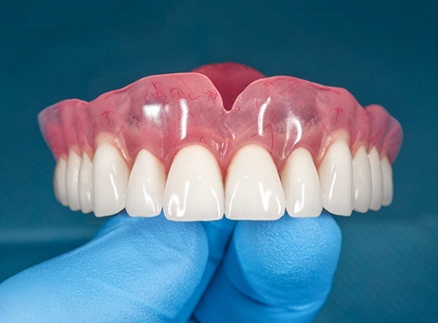 Innovations in dentistry and technology allow patients today to preserve their teeth unlike ever before. However, tooth loss is still a common problem affecting Americans today. In fact, 120 million U.S. adults are missing at least one tooth! Unfortunately, this can make smiling, eating, and speaking difficult, which is why our team at Skyline Dental offers partials and dentures in Springfield! If you are missing one or more teeth, don't hesitate to contact our office today to fill in the gaps for good!
Why Choose Skyline Dental For Partials and Dentures?
Custom-Made Treatment for Natural-Looking Results
State-of-the-Art Facility
Accept All PPO Dental Insurance Plans
Why Replace Missing Teeth?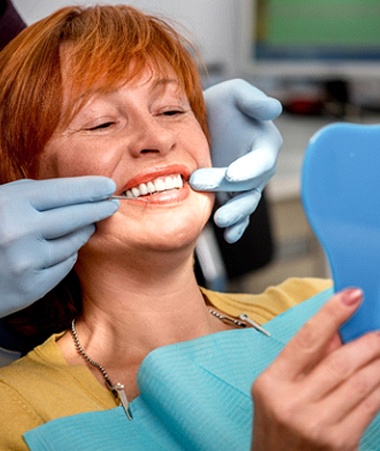 If you can't see your missing teeth or their absence hasn't hindered your quality of life yet, you may be wondering why you need to replace them at all. However, it is important to remember that the effects of tooth loss go deeper than appearance. Once the crown and root are gone, bone loss is inevitable. This can lead to changes in your facial structure that cause premature wrinkling and saggy skin. Plus, the loss of support can cause the adjacent teeth to shift out of place, become loose, or fall out altogether.
What Are My Treatment Options?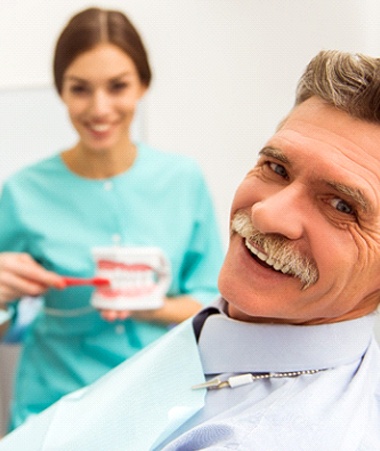 All too often, patients think of partials and dentures as the obvious, obtrusive appliances their grandparents wore decades prior. However, thanks to high-quality materials and the latest techniques, Dr. Henkin custom-makes prosthetics that look life-like, feel realistic, and last much longer. Depending on your unique smile needs, you may need:
Partials
Dentures
If you are missing an entire arch of teeth, then a full denture can be made with all-ceramic teeth. A suction or adhesive will be used to secure it in place against your gum tissue, resulting in minimal slipping and movement.
Implant-Retained
Implant-retained dentures are a state-of-the-art tooth replacement alternative to partials or dentures. By anchoring your new teeth into the jawbone, you can enjoy the durability that dental implants are known for while simultaneously preserving your bone density. At your initial consultation, Dr. Henkin will discuss the whole process and ensure you are a candidate.
Benefits of Partials and Dentures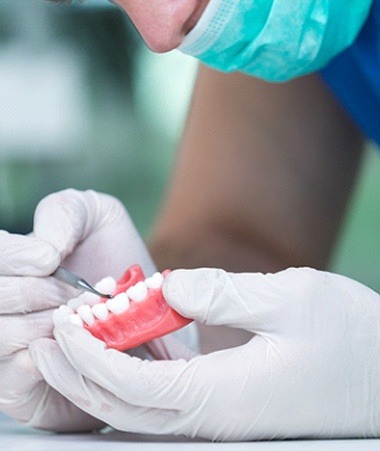 A Full, Beautiful Smile: The gum-colored base and natural-looking teeth make partials and dentures as life-like as possible.
Restored Function: Filling in the gaps will make speaking and chewing a breeze again.
Easy Cleaning: Partials and dentures are removable, which allows you to take them out of your mouth to clean them properly.
Budget-Friendly: Compared to other tooth replacement options, partials and dentures are cost-effective solutions for missing teeth.
Are you ready to smile confidently again? Then it's time to contact our office to schedule your initial consultation with our dentist in Springfield!
Understanding the Cost of Dentures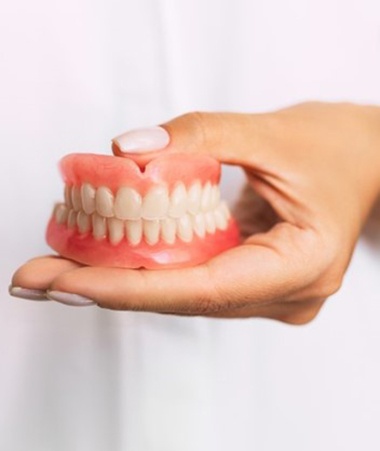 Most of our patients with dentures in Springfield have gone on to claim that this solution was worth its weight in gold. After all, dentures let you enjoy a renewed sense of confidence, as well as the ability to speak clearly and eat a wider variety of healthy foods. As with any type of dental work, though, the cost of dentures in Springfield varies based on several factors. of course, Dr. Henkin will go over these factors with you during your consultation. From there, we can discuss dental insurance and other financing options that can help you comfortably fit your new smile into your budget.
Learn More About the Cost of Dentures
Factors That Affect the Cost of Dentures
Multiple variables can influence the price of dentures, including:
Whether you require preliminary treatments, such as gum disease therapy or tooth extractions, before you can receive dentures. These procedures will increase your overall treatment costs.
The number of teeth you have lost.
Whether you're securing your denture onto dental implants.
The specific materials you would like your denture to be fabricated from.
When it comes to dentistry, you typically get what you pay for. Cheaper dentures are more likely to fall apart quickly or feel uncomfortable. For something that you use every single day to eat, talk, and smile, it's worth investing in a quality solution!
Are Implant Dentures More Expensive?
Initially, implant dentures have a higher price tag than conventional dentures. However, their incredibly long lifespan makes them the more cost-effective option for most patients. While regular dentures must be replaced every five to seven years (and relined every year or two), implant dentures can last for 30+ years if you take good care of them. This means that in the long run, you'll actually spend less money (and time in the dental chair) with implant dentures than you would otherwise!
Does Dental Insurance Cover Dentures?
Dental insurance plans usually cover around 50% of the cost of dentures in Springfield. Keep in mind that the details of each plan vary. Also, annual maximums and deductibles have to be considered. Our team at Skyline Dental can help you get in touch with your insurance company to find out how much coverage you qualify for. We can even offer in-network savings for many of the country's leading dental insurance providers.
Other Options for Making Dentures Affordable
Of course, we understand that not all patients have insurance. That's why we have other options for making dentures affordable. For example, our in-house Membership Plan is a convenient alternative to traditional dental insurance. In exchange for a flat yearly fee of $350 ($300 for each additional family member), you'll receive two cleaning and fluoride treatments a year, as well as all necessary X-rays, for FREE! Plus, you get a 20% discount on all other treatments, including dentures.
Another option is flexible dental financing through CareCredit. By signing up for one of their low- or no-interest payment plans, you can join the millions of Americans who have used CareCredit to make their medical and dental care more affordable by splitting up their treatment costs into manageable monthly chunks.
Denture FAQs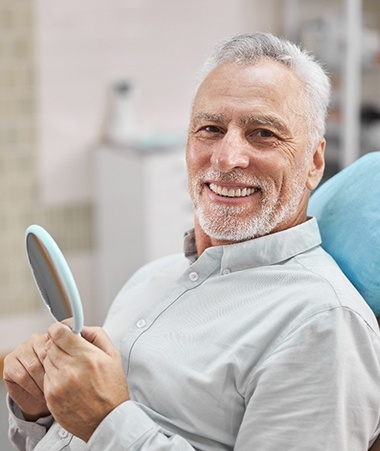 Before moving forward with any dental treatment, Dr. Henkin wants you to be well-informed enough to be confident in your decision. That's why she has conveniently included the answers to some frequently asked questions about dentures below. Of course, if you don't find the information you need here, our team will be happy to answer any additional questions you may have about dentures in Springfield, either over the phone or during your appointment.
Read More
Will it hurt to get dentures?
While getting dentures shouldn't hurt per se, you will most likely experience some minor irritation as your mouth adjusts to the new prosthetic inside of it. This period of discomfort won't last the same for everyone, but it usually takes a few weeks for your mouth to fully adjust. For some people, it may take months. If you're switching to a new denture after wearing an old one, this process may take even longer.
If you experience outright pain with your dentures, or severe discomfort that persists, contact your denture dentist in Springfield right away. There's a chance that your prosthetic may not have been properly fitted, or you have some underlying oral health concern that needs to be treated.
Is it hard to talk with dentures?
Because you were used to speaking with your natural teeth, no teeth, or an older denture, it will take some time to grow accustomed to speaking when you receive a new denture. The length of this adjustment process varies from person to person, but you can speed it up by practicing often.
For example, many denture patients speak with a slight lisp at first due to changes in the palate, but reading aloud and repeating words that contain many "s" sounds, like "Mississippi," can help you correct the issue. Remember to speak slowly at first, as fast speech may sound muffled if you're not used to talking with dentures. If your dentures shift around when you speak, try biting down on them and swallowing beforehand to ensure your new teeth are in the right position. Denture adhesive can also stabilize them as you're still adjusting.
What can't you eat with dentures?
While dentures restore much of your chewing power, you should still exercise caution around certain foods, such as:
Sticky foods like gummy candies and peanut butter, as they can dislodge your dentures.
Foods containing small pieces that could get stuck in dentures, such as popcorn kernels and sesame seeds on buns.
Hard foods like carrot sticks, nuts, apples, and corn on the cob, which can damage your new teeth.
Tough meats like steak that require a great deal of chewing, which can place stress on your dentures as well as your gums.
Can I use regular toothpaste to clean my dentures?
You should rinse and brush your dentures daily, but NOT with toothpaste. It's abrasive and can leave tiny scratches on your dentures that can worsen over time. Instead, clean your dentures after every meal with hand soap, mild dishwashing liquid, or a denture cleaning solution.