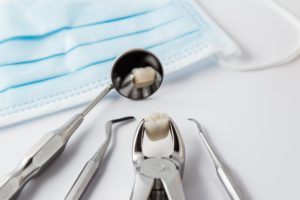 While the goal is to keep all your pearly whites healthy and in place for a lifetime, your Springfield emergency dentist may need to remove a tooth if it's irreparably damaged or poses a threat to the rest of your teeth. It's normal to feel a little anxious if you need a tooth extraction, but thanks to modern dental technology and techniques, you have nothing to worry about for this treatment. Here's a step-by-step guide to what will happen during your tooth extraction, as well as what you can expect to feel.
Step 1: Numbing the Area
First, your dentist will numb your tooth and the area around it. The numbing medication (anesthetic) is administered via a quick shot in the nearby gums. You may feel a quick pinch as the needle is inserted into the area and the anesthetic is injected. It may take several minutes for the medication to thoroughly numb the tissue, but it should easily last all throughout your procedure.
Step 2: Loosening the Tooth
Next, your dentist will loosen the tooth with an instrument called a dental elevator. This small device is carefully wedged between your tooth and the surrounding bone. Your dentist will carefully use the elevator to shift the tooth and lift it up from its socket. During this step, you may feel some pressure, but no pain.
Step 3: Removing the Tooth
Once the tooth has been lifted by the dental elevator, your dentist will grip it with a pair of specialized extraction forceps. Using this small, plier-like tool, your dentist will gently rock the tooth back and forth. Eventually, the tooth will break away from its connective tissues and slip out of place. Like the prior step, you may feel some strange sensations of pressure, but the anesthetics will keep you from feeling any discomfort.
Step 4: Closing the Empty Space
After the tooth has been removed, your dentist will need to close the open socket. First, it'll be cleaned and rinsed out to ensure that there are no remaining bone fragments or infected tissues. Depending on the type of extraction, your dentist may close the space with dissolvable stitches. Finally, a gauze will be placed on the socket to stop the bleeding. The anesthetic will still be in effect, so you aren't likely to feel any of this.
Step 5: Post Extraction
The most uncomfortable part of a tooth extraction is typically the recovery period. Eventually, the numbing medication will begin to wear off and you'll regain feeling in your mouth. As you recover, you're likely to experience soreness, swelling, and some bleeding. These symptoms may last for a day or so, but they should be easily managed with ice packs, over-the-counter pain relievers, and rest. In many cases, your dentist may prescribe pain medication to help with initial discomfort. Before you know it, you'll be enjoying your happy, healthy, and pain-free smile once again!
If you need a tooth extraction in Springfield, there's no need to panic. Your dental team will go above and beyond to make sure they restore your oral health as comfortably as possible.
About the Author
Dr. Aliana Henkin of Skyline Dental has been caring for the families of Springfield, NJ and the surrounding communities for over a decade. She has completed countless hours of continuing education and maintains active memberships in the American Dental Association and the New Jersey Dental Association. This allows her to stay current with all the latest dental techniques and technology so she can offer her patients the most effective and comfortable treatments. If you have more questions about tooth extractions, don't hesitate to contact her via her website or at (973) 963-8181.