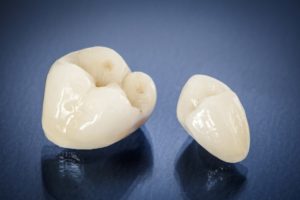 If you're unhappy with the appearance or function of your teeth, you have more options than ever to achieve the beautiful smile you desire. If you want to make significant improvements, you'll likely need to choose veneers or crowns. Although both have their similarities, there are several differences as well, so how do you know which is right for you? Here's the information you need to make the best decision for your smile.
What is a Dental Crown?
A crown is a custom-made cap that's about 2 mm thick. It's bonded over the entire surface of a tooth above the gum line. They are often used in restorative dentistry to repair damaged teeth, but they also offer cosmetic benefits. Overall, a crown enhances the health, function, and appearance of a tooth.
What Can a Crown Fix?
A crown can correct a variety of issues, such as:
Large area of decay
Discoloration or stains
Weakened tooth
Break or fracture
Along with a root canal
Abnormally shaped teeth
Along with a dental bridge
How Much Does a Crown Cost?
Modern dental crowns in Springfield are made of all-ceramic material that will match your enamel to look natural. There isn't a set price for crowns because the cost is determined by several factors, like the material used. Although every policy differs, most dental insurance plans can be used to help offset the amount you need to pay out-of-pocket. With the right aftercare, your crown can last for decades before needing to be replaced for a long-term investment.
What is a Veneer?
A veneer differs from a crown because it doesn't cover the entire tooth. Instead, a thin shell is bonded to the front surface, allowing it to hide several imperfections using just one treatment. Veneers in Springfield are about 1 mm thick. As a result, you're able to maintain more of your tooth's natural structure for a minimally invasive procedure. Veneers can be placed on any tooth, including the molars; however, the back teeth undergo more force, which can cause them to break.
What Issues Can a Veneer Fix?
Veneers can be used to treat a multitude of aesthetic concerns, such as:
Discoloration and stains
Chips or cracks
Gaps between teeth
Shorter than average teeth
How Much Do Veneers Cost?
Veneers can be more expensive than dental crowns because they are elective, so they aren't covered under most dental insurance plans. However, your dentist offers several solutions to keep your treatment affordable, like using third-party financing.
Enhance Your Smile Today
Your dentist will create the individualized plan you need to achieve a picture-perfect smile. With the right restorations, you'll give your confidence a boost using the latest innovations in dentistry.
About Dr. Aliana Henkin
Dr. Henkin earned her dental degree at the Rutgers School of Dental Medicine. She has completed advanced training in many specialties, like cosmetic and restorative dentistry, dental implants, and oral surgery. As a member of the American Dental Association, you can rest assured your smile is in good hands. If you're ready to transform your teeth, contact our office today to schedule a consultation.