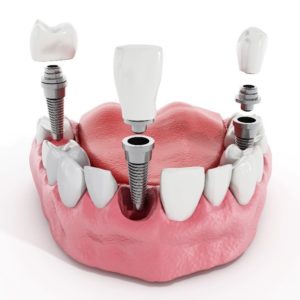 If you're missing a tooth or two, you have more options than ever to rebuild your smile. As an alternative to traditional treatments, many patients are choosing dental implants because they closely mimic real teeth. Although you've heard about their benefits, you likely have a few concerns before you're ready to commit to the procedure. There isn't any reason to fret. Here are the basics of dental implants to help you make the best decision for your smile.
What are Dental Implants?
A dental implant is unlike any other treatment because it recreates the entire structure of a tooth, whereas a traditional treatment only replaces the portion above the gum line. A titanium post is surgically placed into the jawbone to serve as a root. An abutment is attached to the post to connect a restoration, which is customized to match a patient's natural teeth. Whether you're missing a single tooth, multiple teeth, or an entire arch, dental implants in Springfield are a great investment.
What is the Process Like?
Your first step is to schedule a consultation with your dentist. Generally, patients who have good oral and general health are candidates for the procedure; however, your dentist will need to examine your mouth and review a CT scan to ensure they are the right choice for you. Depending on the results of your consultation, you may need additional procedures before your placement surgery, like tooth extractions, periodontal therapy, or bone grafting.
After you've healed from any previous treatments, you'll undergo your placement surgery. A titanium post will be surgically placed into your jaw using computer-guided technology. You'll spend several weeks healing to allow your jawbone to fuse to the post. Once the integration process is complete, you'll have a second minor procedure to attach your abutment. While your gum tissue is healing, the dental lab will be creating your restoration. You'll return to the office to have it connected to the abutment to restore your smile.
What are the Benefits of Dental Implants?
By replicating the entire tooth, dental implants provide exceptional advantages that aren't possible using any other method, including:
Over a 95% success rate to last for decades with the right aftercare.
Looks and feels natural to enhance your confidence.
Regain as much as 70% of your biting force.
Preserves your jawbone's density to improve your oral health.
Easy maintenance and care.
Long-term, cost-effective solution.
Choose the Preferred Choice
If you're ready to treat your tooth loss, don't settle for anything less than the best. During your consultation, you'll undergo dental implants 101 as your dentist explains the road ahead to ease any apprehensions. You can feel confident you're investing in your smile.
About Dr. Aliana Henkin
Dr. Henkin is a trusted dentist for exceptional services. Besides earning her dental degree at Rutgers School of Dental Medicine, she has completed advanced training in restorative dentistry, dental implants, and oral surgery. As a member of the International Dental Implant Association, she has the experience and qualifications you can rely on to replace your missing teeth. Contact our office today to schedule your consultation.