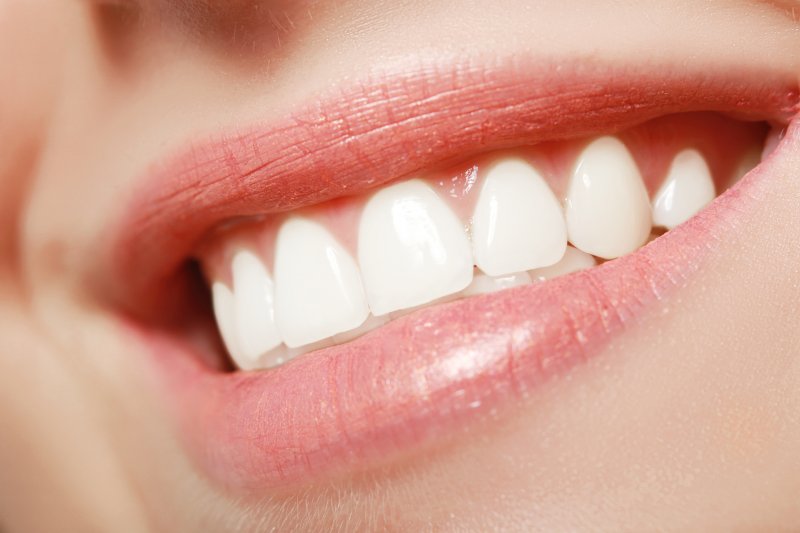 A smile is the first feature most people notice when meeting someone new. If your teeth have become dull, discolored, or dingy, you may feel self-conscious and try to hide them. Fortunately, cosmetic dental treatments like teeth whitening and porcelain veneers can give you a brighter grin so you can make a lasting first impression.
However, each treatment has distinct differences—understanding how each one works can help you make the best choice for your individual needs. Continue reading for a breakdown of each option.
Teeth Whitening
Have you noticed your smile isn't as bright as it used to be? Teeth whitening is a popular solution because it's easy, effective, and affordable. A professional in-office treatment can eliminate even the most stubborn stains. It uses a special highly-concentrated bleaching gel and a UV light to provide permanent results. In as little as one appointment, you can enjoy a grin that's up to eight shades brighter! Avoiding foods well-known for staining and practicing good oral hygiene will ensure your teeth stay as white as possible.
Porcelain Veneers
Whether your teeth are damaged, discolored, or missing, porcelain veneers can make all these problems disappear. This treatment involves placing a thin, custom-made ceramic shell over your teeth, concealing any flaws you're self-conscious about. Your dentist will make impressions of your tooth so the technicians can customize the veneers to your desired size, shape, and color. With porcelain veneers, you can achieve a natural-looking, long-lasting, completely transformed smile.
Which One is Best?
Now, you may be wondering how to choose the treatment that's best for you. Your decision ultimately boils down to your personal cosmetic goals, budget, and time you are willing to dedicate to treatment.
If your primary concern is discoloration, teeth whitening may be the ideal option. It's a quick, affordable, and effective method for brightening your smile. However, if your concerns are more complex than that, you may want to consider porcelain veneers. They can improve the color, shape, size, spacing, and alignment of the teeth. Veneers can also conceal minor damage, like chips and cracks. Keep in mind that this treatment is a much more invasive procedure, meaning it will cost you more time and money.
Overall, each cosmetic treatment has its pros and cons. Your best bet is to consult with your dentist to discuss each option in more detail. They can evaluate your smile and provide you with a professional opinion that caters to your goals. Before you know it, you'll be well on your way towards a dazzling, new grin.
About the Author
Dr. Aliana Henkin brings over 13 years of experience to Skyline Dental. Her gentle and compassionate nature goes a long way towards helping patients feel at ease. Dr. Henkin has created beautiful, long-lasting improvements for even the most difficult smile cases. She understands how a confident, beautiful grin can improve your quality of life, which is why she will work closely with you to achieve your dream look so you can beam with confidence. To consult with Dr. Henkin about a cosmetic treatment that's best for you, schedule an appointment via our website or call (973) 963-8181.