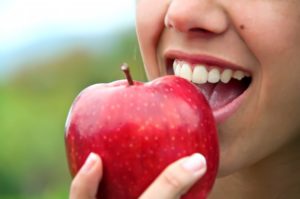 A lifelong love of coffee left your pearly whites not looking very pearly or white. You decided to brighten your smile by getting a professional teeth whitening treatment from your dentist. Now, you couldn't be prouder of your new and improved smile. Of course, you'll want to keep your smile shining brightly for as long as possible. Here are five suggestions for mouth-friendly foods that will naturally keep your teeth bright after getting teeth whitening in Springfield.
1. Strawberries
Whitening your teeth with strawberries might seem counterintuitive. After all, they can stain a white t-shirt, so you may think they would also stain your teeth. However, strawberries contain an enzyme called malic acid, which naturally makes tooth enamel whiter. Plus, they're a yummy alternative to cavity-causing candies!
2. Cauliflower
It takes quite a bit of chewing to eat cauliflower. While it may sound like a lot of work, all of that chewing does wonderful things for your teeth. The more you chew, the more saliva your mouth produces. It might sound gross, but all of the saliva is good for you. Saliva rinses food particles and bacteria off of your teeth to not only keep them bright, but reduce your risk of cavities.
3. Cheese
Cheese and other dairy products, such as yogurt and milk, are rich in lactic acid and calcium, both of which strengthen tooth enamel while also whitening it. The act of chewing on cheese also helps you create more saliva that washes away staining food debris.
4. Apples
Similar to cauliflower, apples take some effort to chew, helping you produce cleansing saliva. Their fibrous skins not only contain teeth-healthy nutrients, but they also naturally scrub your teeth clean as you chew them. Lastly, they're a healthier way to satisfy a sweet tooth than highly processed snacks. In terms of keeping your teeth healthy and bright, apples are a triple threat!
5. Celery
Not only is celery low in calories and high in vitamins and minerals, but once again, chewing it helps keep your teeth clean and white. Pairing it with peanut butter can create a snack that's as healthy as it is filling.
Once you've gone to the effort of getting your teeth professionally whitened, you're going to want them to stay that way. Eat a healthy amount of these foods and your smile should continue shining brightly for quite some time!
About the Author
Dr. Aliana Henkin is an experienced dentist in Springfield, NJ with 13 years of clinical experience. She earned her Doctor of Dental Medicine degree from the Rutgers School of Dental Medicine and has attended advanced post-graduate courses in many areas of dentistry, including cosmetics. She is proud to offer in-office Zoom! teeth whitening that can dramatically brighten your smile in a single hour-long visit. For more information on how professional teeth whitening can benefit you, visit her website or call (973) 963-8181.